College of the Mainland awarded $100,000 Texas Mutual safety education grant
Feb 26, 2020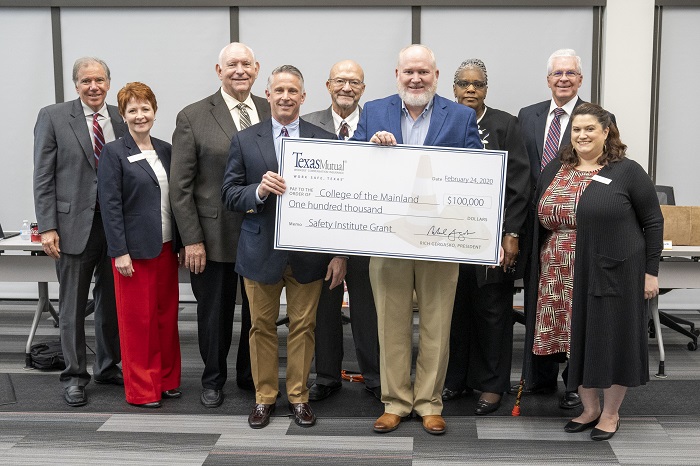 College of the Mainland (COM) was awarded a $100,000 grant from Texas Mutual Insurance Company to continue providing funding for the college's Gulf Coast Safety Institute Center for Risk Management, which provides workplace safety courses for community employers, workers and the general public. Eric Bourquin, Texas Mutual's vice president of safety services, presented the check during the college's February 24 board of trustees meeting.
"We are honored to continue this important partnership with Texas Mutual Insurance Company," said Cindy Lewis, director of the COM Gulf Coast Safety Institute. "This donation will allow us to continue providing valuable workplace safety programs for our community. The support we receive from Texas Mutual year over year emphasizes the positive outcome educating employees on proper workplace safety has in today's competitive marketplace."
The donation highlights Texas Mutual's ongoing commitment to provide free safety workshops to professionals in industry.
"Our commitment to Texas community colleges over the many years has allowed tens of thousands of workers to get the education they need to work safely," said Bourquin. "Continuing to support these colleges so their communities have access to safety programs is something we're proud to do as part of our mission to create a stronger, safer Texas."
The Gulf Coast Safety Institute was established to provide safety and health training and education to workers and employers. Additionally, the Gulf Coast Safety Institute is an OSHA Challenge Program Administrator mentoring over 50 companies in improving their Safety and Health Management System to potentially achieve OSHA's Voluntary Protection Program STAR status. The 2020 schedule at the Gulf Coast Safety Institute includes courses on machine guarding, heat illness prevention, environmental monitoring and hurricane preparedness.
For more information about College of the Mainland's Gulf Coast Safety Institute, including a full list of courses, visit www.com.edu/gcsi or call (409) 933-8365.