Government Professor Explores American Democracy in National Polling Project
Oct 15, 2019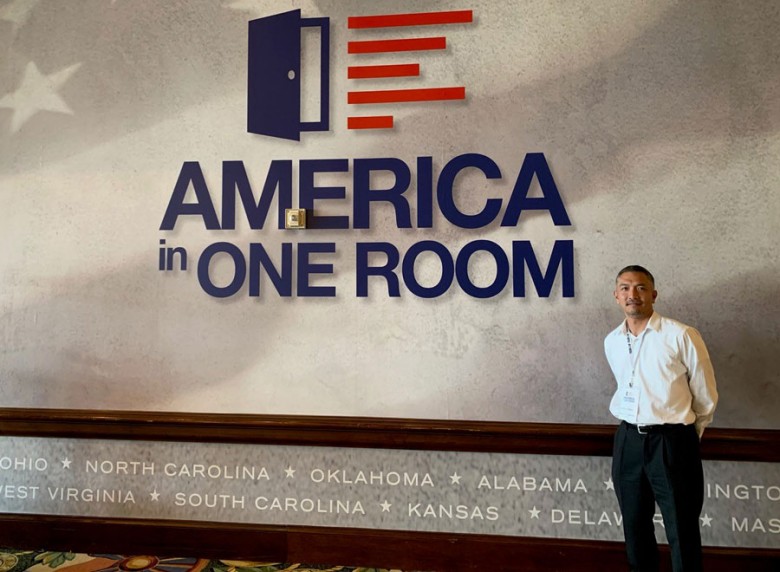 College of the Mainland government professor, Shinya Wakao, recently participated in the thought-provoking America in One Room national polling project. The project, which garnered national coverage with The New York Times and CNN, comprised a random sampling of more than 500 Americans representing diverse age, racial and political backgrounds who were brought together to discuss a range of social and political issues confronting the country in the upcoming 2020 presidential campaign. Held in Dallas, Texas from September 19-22, the project sparked profound conversations on American democracy. Participants engaged in open and civil dialogue about hot-button topics including the economy and taxes, healthcare, environment, immigration and foreign policy.
"Politicians say we do not know about politics. But I realized that it is not true. We can understand policies," said one participant at the end of the discussions. While another participant discovered, "We could respect other people's opinions and listen to them even though our opinions are different, and we disagree."
Led by the Center for Deliberative Democracy at Stanford University, the America in One Room project is devoted to research about democracy and public opinion obtained through deliberative polling where participants are informed by experts on each side of an issue. Together with his fellow academic peers, Wakao facilitated the four-day experiment. A random, representative sample of citizens deliberated on current issues or proposed policy changes through small-group discussions and conversations with experts to create a more informed and reflective public opinion. The views expressed by participants during the project will then be documented and shared with the public, candidates and policymakers, giving a clearer, more balanced and more informed knowledge of the political landscape heading into the election.
The project served as a valuable opportunity for Wakao as he was able to collaborate with citizens from across the country and then share those experiences and unique perspectives with his government students at College of the Mainland.
"Working for this event gave me a great opportunity to share my research and professional activities with my students," said Wakao. "I hope students will realize that I am trying to contribute to our democracy as a political scientist. I also hope that students will learn there are many ways to contribute to our democracy."
Government is one of many disciplines offered in the Department of Social and Behavioral Sciences at College of the Mainland. Through this discipline, students have an opportunity to continue this course of study at a four-year college or university leading to countless degree paths and numerous career options. For admissions information, call 409- 933-8264 or visit www.com.edu/admissions.