COM Theatre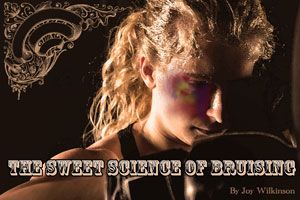 The Sweet Science of Bruising
Nov. 2–19, 2023
by Joy Wilkinson
London, 1869. Four very different Victorian women are drawn into the dark underground world of female boxing by the eccentric Professor Sharp. Controlled by men and constrained by corsets, each finds an unexpected freedom in the boxing ring. As their lives begin to intertwine, their journey takes us through grand drawing rooms, bustling theatres and rowdy Southwark pubs, where the women fight inequality as well as each other. But with the final showdown approaching, only one can become the Lady Boxing Champion of the World in this epic tale of passion, politics and pugilism.
---
2023-2024 Season
The COM Theatre announces the upcoming 2023-2024 season:
2023-2024 Show Times
Thursday, 7 p.m.
Friday, 7 p.m.
Saturday, 7 p.m.
Sunday, 2:30 p.m.
---
Theatre Box Office Hours
Call the Box Office at 409-933-8345 or 1-888-258-8859, ext. 8345.
Non-Performance Weeks
Tuesday, 10 a.m. – 4 p.m.
Wednesday, 10 a.m. – 4 p.m.
Thursday, 10 a.m. – 4 p.m.
Friday, 10 a.m. – 4 p.m.
Performance Weeks
Tuesday, 10 a.m. – 4 p.m.
Wednesday, 10 a.m. – 4 p.m.
Thursday, 11 a.m. – 6 p.m.
Friday, 11 a.m. – 6 p.m.
Saturday, 4-6 p.m.
The Box Office opens at 1:30 p.m. for Sunday performances.
---
Ticket Information
Individual Tickets
A

Section—$20
B

Section—$15
C

Section—$10
All performances are FREE to COM faculty/staff/students with a COM ID.
Children must be 4 years old to attend.
Season Tickets: Open Pass Plan
OPEN PASS - A Section—$75
Season Tickets: Reserved Seating Plan
A

Section—$75
B

Section—$59
C

Section—$42
---
Driving Directions from Houston
Take I-45 Gulf Freeway South to Exit 16 (1764 East).
Take 1764 East to the Amburn Road exit (second exit, about 1.5 miles from I-45).
Take a right on Amburn Road.
Go about a block and turn left into the College parking area.
From the parking area, the Theatre sits all the way to the right and is clearly marked on the outside of the building.
---
COM Theatre
College of the Mainland
1200 Amburn Rd.
Texas City, TX 77591
409-933-8345
1-888-258-8859 ext. 8345