Community Offers Support for COM Scholarships
May 2, 2019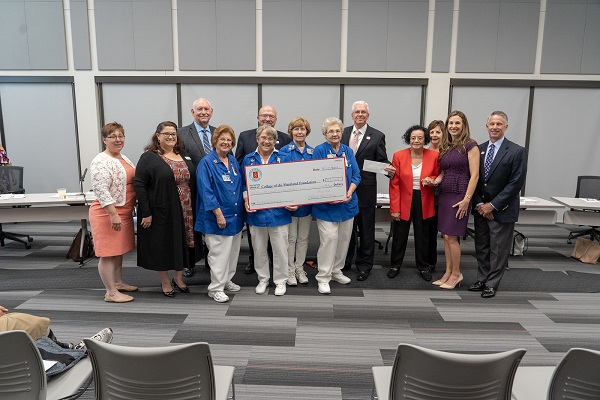 Seeing a need for financial support, some area organizations and individuals have contributed toward scholarships for well-deserving College of the Mainland students.
During the April 29 COM Board of Trustees meeting, Mainland Medical Center Auxiliary members gave the college a $15,200 check to help fund scholarships.
For the past 17 years, the auxiliary has donated $250,183. The monies have funded 101 scholarships.
Following a presentation about COM's dual credit and Collegiate High School to the Texas City-La Marque Community Advisory Council in April, the Texas City Civic Club made a $400 gift for students who want to participate in dual credit and Collegiate High School programs.
Financial planner Lee and Tessa Skipper also announced their plans to give $2,000 to help off-set tuition and textbook expenses for Texas City and Dickinson high school students who want to earn college credit through College of the Mainland's dual credit and Collegiate High School.
The monies donated to the college to fund scholarships are handled through the COM Foundation.
COM Foundation member Denise Navarro and her family have established two Logical Innovations, Inc. Scholarships at the college, the first in 2012, and the second as an endowed scholarship in 2018.
The Logical Innovations, Inc. recipients receive a $7,000 scholarship over a two-year period.
"Seek out mentors and advisors who can share their stories and help you avoid some of the common pitfalls," Navarro advises students. "We are all unique individuals, and your success will come when you've found your calling and follow that path because you will be happy in what you're doing."
Helping students succeed is why Navarro would recommend others to make a scholarship gift.
"Student scholarships at COM can set a student on his/her path for success. You can feel proud that you are a small part of their stories," she said.
Donations for student scholarships can be made by contacting the COM Foundation at www.com.edu/giving.