COMPeers Continue to Support Community
Oct 26, 2018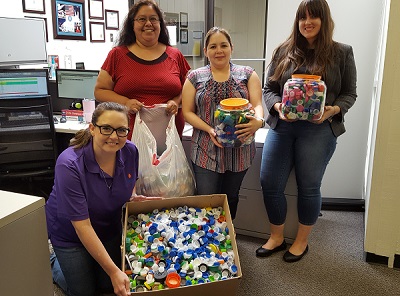 COMPeers, a College of the Mainland employee volunteer group, is partnering with the Texas City Police Department for this year's Blue Santa program as the continues to support community groups and initiatives throughout Galveston County.
The group along with Nu Psi is hosting a toy drive through Thursday, Dec. 13 in order to provide toys to families in need in our community.
Anyone wanting to donate an unwrapped toy can do by dropping them off in the President's Office.
COMPeers held its annual Golden Ladle Chili Cook Off and Bake Sale on Oct. 30. Proceeds from the event went toward COM student scholarships.
On Oct. 9, more than 1,000 Box Top labels collected by COMPeers were donated Stewart Elementary School in Hitchcock.
Also after months of collecting plastic, recyclable products, COMPeers contributed the items toward the Santa Fe Strong Resiliency Center. The Santa Fe Moms and the Santa Fe Strong Resiliency Center are collecting the plastic products in order to create 10 memorial benches in honor of the victims who lost their lives during a May shooting at Santa Fe High School.
Each bench under the "10 Benches Memorial Project" takes about 10, 50-gallon bags of plastic caps and lids to create.
COM Controller Trudy Trochesset delivered three, 50-gallon bags on behalf of COMPeers on Oct. 5. COMPeers continues to collect the plastic products.
Acceptable products among others include caps from medicine bottles, milk jugs, detergent, hair spray, toothpaste, deodorant, soft drinks, flip-top (mustard and ketchup), spray paint, ointment tube, spout caps (like mustard) and caps with recycle numbers 2, 4 and 5. Lids that are accepted include those from cottage cheese, mayonnaise jars, yogurt, peanut butter, cool whip container, coffee cans, cream cheese containers, butter containers, ice cream bucket lids under eight inches and prescription bottles with the labels removed.