Skipworths Establish IMPACT Scholarship
Jul 3, 2018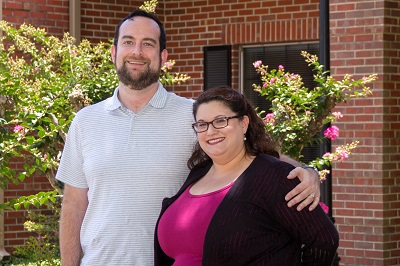 When water rose into the Dickinson home of Sean and Melissa Skipworth during Hurricane Harvey, the couple experienced an outpouring of support from the community, including former College of the Mainland students of COM professor Sean Skipworth.
The couple's gratitude gave them the idea to pay it forward. The couple has endowed the Sean & Melissa Skipworth IMPACT Scholarship. Sean Skipworth has been a Social and Behavioral Sciences faculty member at COM since 2012 and Melissa Skipworth is serving her first term on the COM Board of Trustees.
The first recipient of the IMPACT Scholarship will be awarded this fall to cover the entire tuition and fees for a student.
"When I ran for office, I came in at a high level but I wanted to make a difference," Melissa Skipworth said. "After attending student events and meeting students, I am inspired by them."
The Skipworths each endured the hardships of having to pay their own expenses as college students and know a scholarship would make a difference to someone. Sean Skipworth was a first-generation college student.
"Putting yourself through college is hard. I understand that. If I can make it less of a struggle, why wouldn't I?" Melissa Skipworth, a resource manager for Grant Thornton, said.
Sean Skipworth said he knows that many of his students attend school and work full-time. "If students can go full-time and have to work less, it'll be better for them. We can help pay it forward."
The Skipworths initially planned to donate toward a one-time general scholarship. However, after realizing the cost for creating a permanent, lasting scholarship was about the same amount they paid for their young son's day care, they changed their mind. The couple learned they had flexibility and could pay for the endowed scholarship over multiple years instead of creating a one-time scholarship as they initially thought.
"You don't have to be a millionaire to endow a scholarship," Sean Skipworth said.
The deadline to apply for the Sean & Melissa Skipworth IMPACT Scholarship is July 13. To apply for the IMPACT Scholarship and others, go to www.com.edu/scholarships.
To make a donation towards the IMPACT scholarships, go to www.com.edu/impact.
Requirements for the IMPACT Scholarship are:
Applicant must have graduated from Santa Fe or Dickinson H.S. in the last 10 years
Recipient must show financial need
Student must have and maintain a 2.0 GPA
Recipient shall be a full-time or a part-time student
Award may be used for tuition/fees, books, and program related needs
Preference to those qualified applicants who are first generation college students
For more information about establishing a scholarship through the COM Foundation, contact Matthew Busby at mbusby1@com.edu or 409-933-8613.