COMPeers Volunteer at Ronald McDonald House
Jul 2, 2018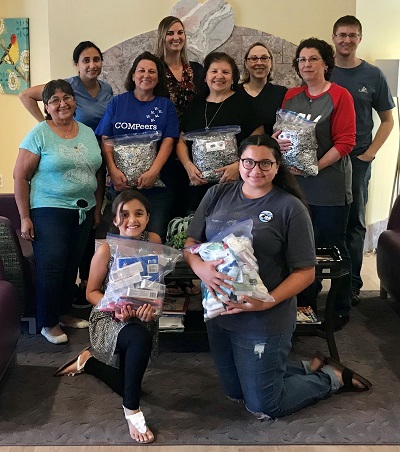 COMPeers, a College of the Mainland employee volunteer group, paid a visit to the Ronald McDonald House and its residents in Galveston on Saturday, June 30.
The group hosted an ice cream social for the 30 residents staying at the Ronald McDonald House. The Ronald McDonald House is like a home away from home for families of children who are patients at the University of Texas Medical Branch, the Transitional Learning Center and Shriners Hospital for Children. Many of the children and their families who stay at the House are burn victims from around the world.
COMPeers provided the residents at the House with a much-needed diversion of not only ice cream but also provided an arts and craft project of making beaded necklaces as well as yarn and paper crafts.
The group also donated about three gallons of aluminum can tabs and toiletries.
COM employees and others who volunteered include Amanda Garza and her daughters, Ami and Mia Brown; Kari Drake and her mother, Dr. Mary Starz; Lauren Davila, Rosie Rojas, Leanne Downton, Chris Rushing and James Schroeder.
For more information about COMPeers and other volunteer opportunities, contact Rosie Rojas.