PTEC Students Head to National Troubleshooting Skills Competition
Apr 3, 2018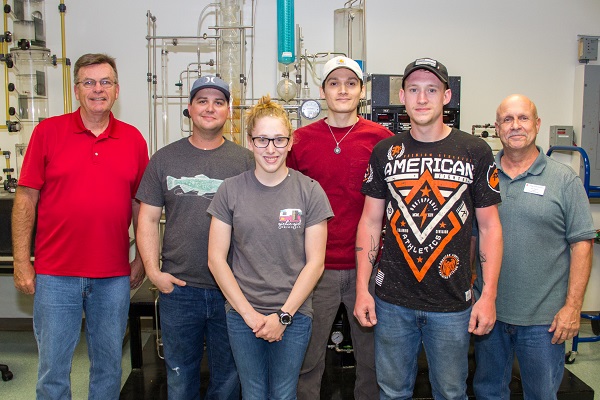 Four Process Technology students from College of the Mainland will travel to Louisiana to compete in the North American Process Technology Alliance Troubleshooting Skills Competition on April 20 and 21.
The team is set to compete at River Parishes Community College in Gonzales, La., as one of 10 teams vying for the championship. Making up the team is Murphy Richards, captain; Breanna Clarke and Arthur Little. Steven Brock will serve an alternate.
"This is especially exciting since this is the first year that COM is participating in this competition," said Cindy Lewis, who oversees the process technology program and also is director of the Gulf Coast Safety Institute.
Three COM teams competed in the qualifying round on March 21 using a web-based Learning Management System (LMS) on campus to answer questions related to troubleshooting scenarios. Each team had to contend with three, timed scenarios. At the end of each scenario, the three teams answered up to 20 questions related the troubleshooting scenarios. The top 10 teams from those competing on campuses across the country advanced to the championship round. Only one team from a college can participate in the championship competition.
During the championship competition later this month, teams will have four, simulator-based exercises.
The troubleshooting teams consisted of a captain, two members and an alternate. Team members had to be currently enrolled in the process technology program on a full or part-time basis, cannot be currently employed or previously employed as an operator.
The other students from COM who competed in the qualifying round were Abraham Aldama, Carl Barnett, LeTrevor Dominick, Jennifer Flores, Arnold Gama, Caleb Methvin, James Pittman and Sean Semrau.