COM fifth in nation in science technology graduates
Jun 30, 2017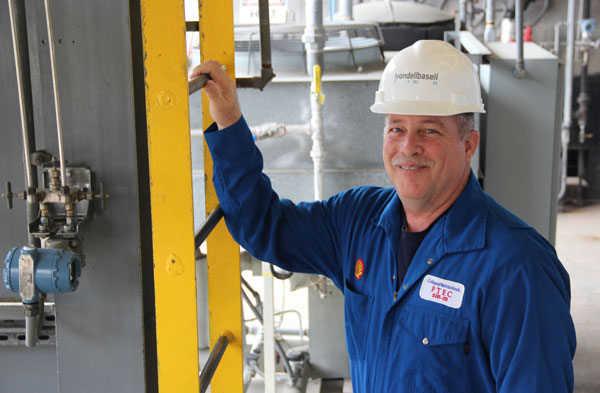 COM is tied for fifth in the nation in the number of degrees awarded in science technologies/technicians in 2016, according to a report by Community College Week. COM graduated 78 Process Technology Program students in 2016.
The COM program relies on an advisory council of industry representatives to set program standards and determine which topics students will master – making COM students in demand at graduation.
"We have offered internships to over 70 COM students and many are currently full-time employees," said David Gosnay, manager of training and logistics at LyondellBasell. "I am responsible for hiring and training of all new employees and I am closely involved in COM student development and evaluation. My opinion and experience is that COM students seem to be better prepared for the transition from education to industry."
The Process Technology Program teaches students through labs and hands-on classes operating industry equipment such as COM's glycol separation unit.
"COM tries to recreate a real-world environment as much as possible. I am an active member of the PTEC Advisory Panel. I attend many functions including the 40-hour run [of the glycol separation unit] and student projects," said Gosnay.
As industry grows along the Gulf Coast, job opportunities for program graduates multiply. COM first-year process technology grads earn $77,268, according to the Texas Higher Education Coordinating Board.

"COM grads show the most promise in new employee training orientation," said Mae Francis, plant training specialist at Ashland Chemical in Texas City.

Barry Elkins, 54, graduated this year from the COM Process Technology Program with honors and spoke at graduation.
"I've done a lot of research on other PTEC programs," said Elkins. "The training at COM is unsurpassed. It's not facilities that makes program successful - it's the instructors."
Process technology graduates are in demand in food processing, chemical, pharmaceutical and petrochemical industries.

"I've made friends here I'll keep for a long time," said Elkins. "Professor Stacey Henderson, Al Jivan and Dr. R.E. Davis changed my life and how I look at things. They are so passionate about teaching and that rubs off on us."
For more information on the COM Process Technology Program, visit www.com.edu/ptec or call 409-933-8536.