"Red" colors life, art at COM Community Theatre
May 23, 2017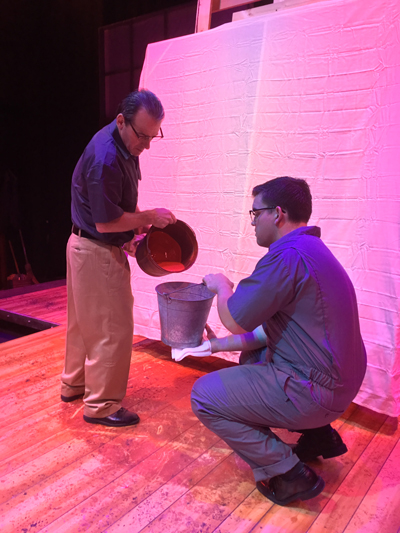 "What do you see?" Painter Mark Rothko asks his assistant, Ken, the burning question.
The year is 1958 and Rothko has just won a commission to create a mural for the Four Seasons restaurant in Manhattan. His assistant mixes paint, crafts frames for canvas – and starts to question Rothko's theories of art. The tension escalates as they question what defines art and what its role should be in the world.
The two-man drama, winner of six Tony Awards and three Drama Desk Awards, is showing through June 4 at College of the Mainland Community Theatre.
"'Red' opens your perspective of what art is," said director Brian Hamlin. "You can't take yourself too seriously because other people will see through that. They remember the art, not the artist. Though, the end result of art is a reflection of who you are as a person."
Hamlin's first play as an actor was at COM. He's worked at States Theatre, Mainstreet Theatre and Shakespeare festivals in Houston, Arkansas and Oklahoma.
Since 1972, COM Community Theatre has presented over 228 productions including children's theatre, concerts and workshops with attendance of more than a quarter of a million people. The theatre has been recognized as one of America's leading community theatres, setting high production standards and developing one of this country's most innovative programs.
Show times are 8 p.m. Thursday to Saturday and 2:30 p.m. Sunday.
Get tickets at www.com.edu/theatre or call 409-933-8345.