Sword fights and shenanigans in comedy "Moon Over Buffalo"
Mar 23, 2017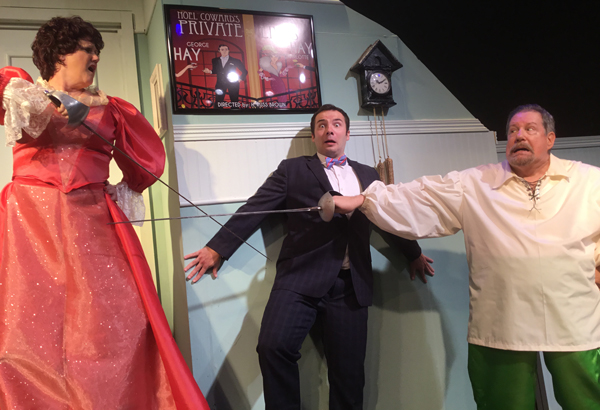 Pratfalls, slammed doors and shenanigans abound in College of the Mainland's production of "Moon Over Buffalo" March 23 to April 9.
It is the summer of 1953, and George and Charlotte Hay, formerly stars on Broadway, are languishing in a rundown touring company. On the brink of splitting up after George's fling with a young actress, they discover they have one last chance: Frank Capra is coming to see their show, and this could be their moment to be cast in "The Scarlet Pimpernel."
Soon, however, the play devolves in chaos as George's deaf mother-in-law undercuts him and their daughter's clueless fiancé wreaks havoc. With mistaken identities, romantic entanglements and confusion over which play they are actually performing, the mayhem only intensifies.
"This show is a double-edged sword of entertainment," said H. Russ Brown, director. "Not only does it have all the classic elements of farce — twists/turns, slamming doors and a frantic and frenzied pace — it's even got a scintillating smattering of swashbuckling swordplay!"
The cast includes COM theatre majors and seasoned professionals from the Houston/Galveston area.
Performances can be seen March 23 through April 9 at 8 p.m. Thursdays through Saturdays and 2:30 p.m. Sundays.
For tickets, visit www.com.edu/theatre or call 409-933-8345.