Marathon donates $16,000 for COM students
Mar 1, 2017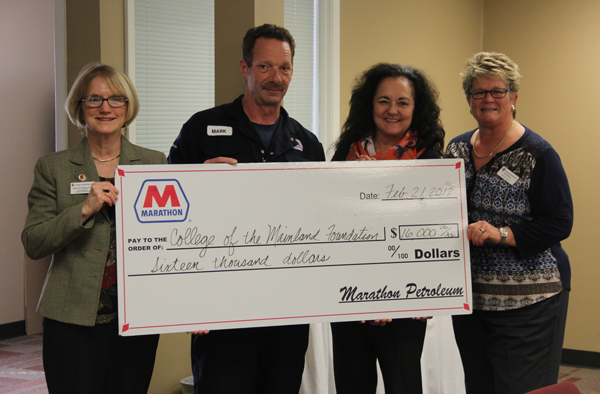 Continuing a longstanding partnership, Marathon has donated $16,000 to provide College of the Mainland students with tuition assistance and upgraded supplies.
"This $10,000 donation helps Collegiate High School students who need financial assistance. Last year we served 52 students through the Marathon grant," said Sandi Belcher. "Without their support those students would find it difficult to remain in Collegiate High School."
COM Collegiate High School students take classes on the COM campus while remaining eligible for extracurricular activities at their high schools. COM Collegiate High School is open to students in Clear Creek ISD, Dickinson ISD, Hitchcock ISD, Friendswood ISD, La Marque ISD, Santa Fe ISD, Texas City ISD and Odyssey Academy and Abundant Life Christian School, as well as private and home-school students.
The COM PTEC Program, the first in the nation to offer an associate degree, will use $6,000 to upgrade the equipment students use to train.
The two-year program teaches students through labs and hands-on classes operating industry equipment such as the glycol separation unit. Graduates earn the highest starting salary in the state, according to College Measures.
For more information about the COM PTEC program, visit www.com.edu/ptec or call 409-933-8536.
For more information about the COM Collegiate High School, visit www.com.edu/chs or call 409-933-8169.