Lost in Yonkers at COM theatre
Jan 25, 2017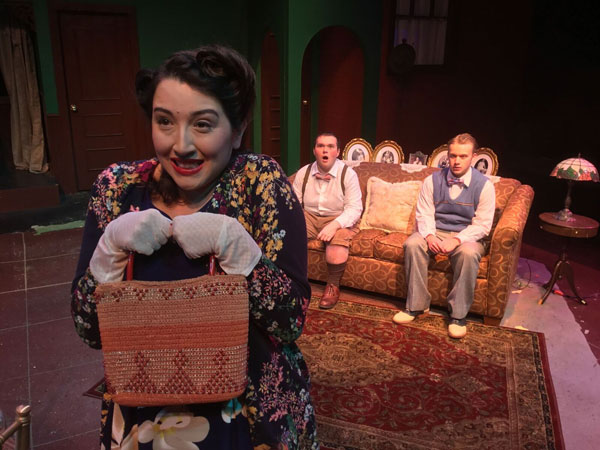 As the second world war rages, two boys face turmoil closer to home when their father deposits them on their grandmother's doorstep to become a traveling salesman.
In "Lost in Yonkers" at College of the Mainland Community Theatre, showing Jan. 26 to Feb. 12, the boys decide to make money quickly in hopes of reuniting with him. They work on their mission while contending with Grandma, their aunt and her secret romance, and their uncle, a small-time hoodlum, in a strange new world called Yonkers.
The show, influenced by playwright Neil Simon's own upbringing in New York, won the 1991 Pulitzer Prize for drama.
"Neil Simon is well-known for his comedic plays, and that element is definitely present in 'Lost in Yonkers,' but it also has some very serious moments as well," said director Jim Hackett. "Every member of the Kurntiz family displays unique characteristics from Grandma Bella's stoicism to Bella's child-like demeanor to Eddie's sacrificial loyalty."
"Many audience members will find their own message from the show. It has a lot to say about family – we can't choose our relatives, but we have to figure out how to live with them. It also speaks to how different individuals cope with the trials and tribulations life can throw at any of us."
The cast has two current COM student actors: Zach Dockal playing Jay Kurnitz and Hunter Morris portraying his younger brother Arty. These students join a talented and fun cast of local veteran actors – Donna Bane, Frank Green, Cynthia Hernandez, Rick Olvera and Amelia Serrano.
Since 1972, COM Community Theatre has presented over 228 productions including children's theatre, concerts and workshops with attendance of more than a quarter of a million people. The theatre has been recognized as one of America's leading community theatres, setting high production standards and developing one of this country's most innovative programs.
Show times are 8 p.m. Thursday to Saturday and 2:30 p.m. Sunday.
Get tickets at www.com.edu/theatre or call 409-933-8345.