How COM puts safety first
Jan 9, 2017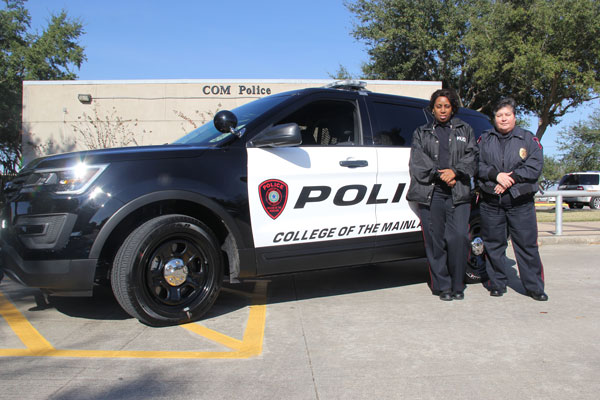 As part of ongoing efforts to upgrade College of the Mainland facilities, the college has implemented measures to increase security, including installing new video cameras and interior door locks that can be switched on from the inside of classrooms.
"The administration has made it possible to increase security measures so that we can continue to keep safety and security a top priority for our campus community," said COM police chief Sylvia Chapa. "We're continuing with upgrades for physical security by adding new security cameras to our system, re-keying campus facilities, adding a new patrol vehicle and golf carts, and continuing training to keep our campus police officers up to date."
The campus is increase coverage of the existing external security system with more than 10 new security cameras in the parking lot and near the pond.
In addition, interior and exterior door locks are being replaced at the recommendation of security experts, who advise that every institution replace locks and re-key doors every 10-15 years. For security and accountability only campus police will carry keys that access the exterior doors to buildings on the main campus.
"These updated security measures will help maintain the physical security of the buildings as well as raise the level of personal safety for students, staff and police officers," said Chapa.
The campus has also purchased a new police vehicle to step up current patrols.
These measures are part of ongoing efforts to maintain and upgrade COM's facilities, including recently recoating the gym dome and installing way-finding signs this month.