9 ways to stay fit in the holidays
Nov 18, 2016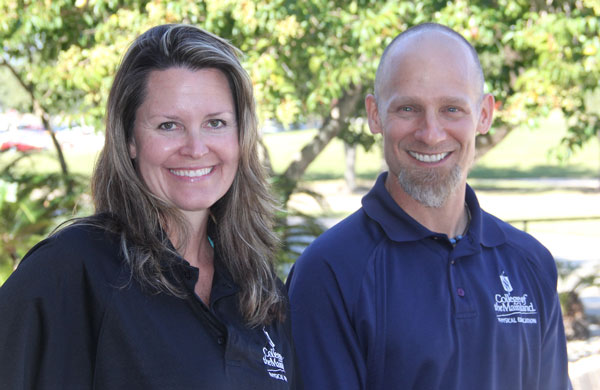 A little extra whipped cream on pumpkin pie, seconds on turkey and one more glass of punch can add up quickly. COM professors offered their tips on how to enjoy the holidays now without struggling to button your pants on Jan. 1.
Top Tips
1. Savor foods you like.
"Enjoy food with your taste buds and not with your stomach. Slow down and savor each bite," said Crystal Collins, COM associate professor of physical education who has a Master of Arts in fitness and human performance.
2. No gym? No excuse.
"Simple exercises like modified push-ups, planks and sit-and-stands can go a long way to maintain lean weight," said Jason Abshire, COM associate professor of physical education who has a a Master of Arts in fitness and human performance.
3. Hit up the veggies.
"At social gatherings, go for the vegetables first. Filling up on lower-calorie, high-fiber finger foods can save you a good deal of calories. Just be careful to avoid all the high-calorie dips that often accompany them," said Collins.
4. No loitering.
"A good way to eat less at a party is to socialize away from the kitchen/buffet area. Walking just a few steps away can help prevent mindless eating," added Abshire.
5. Downsizing isn't just for homes.
"Enjoy your family feasts on a smaller plate. Consider loading up all the wonderful holiday dishes on a salad plate instead of a full-size dinner plate. Your eyes will be satisfied seeing a full plate and your stomach will thank you," said Collins.
6. Make better bad choices.
"Three slices of pecan pie is a bad choice. One slice of pecan pie is a better bad choice. We all know pecan pie will not be found on a healthy eating top ten list, but by making a better bad choice, we are able to enjoy a slice of pie without overindulging," said Abshire.
7. Get your steps in.
"20 to 30 minutes of walking can burn 100 to 250 calories, which may be enough to help keep extra pounds from creeping up during the holidays. Most smartphones come with a preinstalled pedometer app to keep track of daily steps. Set a goal to get as close to 10,000 steps each day as you can," said Collins.
8. Create active traditions.
"Instead sitting on the couch for hours visiting, try creating an active tradition. Create an outdoors scavenger hunt, organize a family flag football game or plan a family beach ball volleyball game. Get family and friends involved and make it a tradition everyone looks forward to," said Abshire.
9. Try an app.
"Apps like My Fitness Pal and Lose It can help you keep track of calorie intake and will also link with other fitness tracking apps like FitBit, RunKeeper and Map My Walk. Using an app like these will let you see if excess calories are adding up so you'll know before your favorite pants don't fit," said Collins.
"If you are looking for the benefits of a trainer without the expense, consider installing an app called SworkIt. This app lets you create your own workout routine lasting from 5-60 minutes including strength, cardio, yoga and stretching exercises, or you can use the 'discover workouts' feature and follow a pre-designed workout, all from home with little to no equipment," said Abshire.
For more information on upcoming fitness classes at COM, visit www.com.edu/register.