Future pipefitters wanted
Nov 17, 2016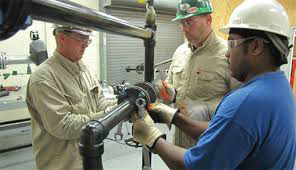 A new pipefitting program at College of the Mainland will prepare students for a rapidly growing career in refineries, manufacturing and power generation.
Pipefitting jobs on the Gulf Coast area are estimated to increase 27.4 percent by the year 2022, with the median salary of $19.88 per hour, according to Workforce Solutions.
"The Industrial Pipefitting Program is another way that College of the Mainland is meeting the needs of our workforce," said Laura Baumgartner, Director of CE Industrial Workforce Programs. "Those who pay attention to detail, have spatial and mechanical abilities and have the ability to work efficiently with tools of the trade are prime candidates for this program."
Pipefitters install and repair both high and low pressure pipe systems used in manufacturing, in the generation of electricity and the in the heating and cooling of buildings.
COM graduates can take advantage of COM's connections with industry professionals.
"COM works closely with advisory committees that consist of industry partners and contractors to provide insight on what employers are hiring or offering internships or apprenticeship opportunities," said Baumgartner.
The COM Industrial Pipefitting Program will follow the National Center for Construction Education and Research (NCCER) curriculum. NCCER is an education foundation that has developed standardized training processes and curricula and is supported by leading construction and maintenance companies, manufacturers, and national associations nationwide.
Students who successfully complete the NCCER CORE will be entered into the NCCER National Registry that contractors and industry hiring managers use to hire workers. Upon successful completion of Pipefitting Levels I, II, III, IV and CORE, the student will be eligible to test for an NCCER credential.
Once the student completes the first course, they will be listed in the NCCER registry that employers have access to, to recruit and hire for their job openings.
All instructors are certified trainers for the NCCER program and bring over 50 years of combined experience in the field pipefitting.
Students may receive financial aid to cover the cost of tuition, books and supplies through Workforce Solutions, TPEG Grants or H1-B Grant.
For more information, visit www.com.edu/pipefitting or call 409-933-8146.