Open house for fast-track career classes
Nov 3, 2016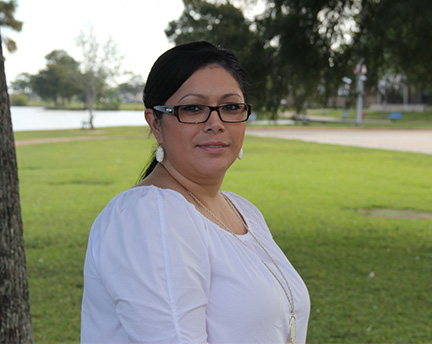 Learn more about how College of the Mainland's Adult Education Program is changing lives and how you can sign up for career-pathway classes at an open house Nov. 12 in the COM Learning Resources Center Auditorium, come and go from 9 a.m. to noon.
"I hadn't been in school for 17-18 years. I needed to start at the beginning. [Instructor] Rachel Ruiz was always there to motivate me even when I doubted myself," said Leticia Garcia, who completed her GED and earned a certificate in medical assisting.
The program is helping students complete English as a second language or high school equivalency (GED) classes while preparing for careers.
Students do not have to be citizens or have a high school diploma to enroll in classes, and they can receive financial aid to cover the cost of classes.
"Everyone who wants training to enter a new career is accepted in this program," said Joshua Hayes, COM director of adult education.
Students can choose from 24 programs: accounting, entrepreneurship, management, marketing, graphic design, web design, computer networking, computer programming, emergency management, occupational safety and health, mechanical maintenance, air-conditioning, industrial drafting, computer-aided drafting, health information systems, medical assistant, pharmacy technician, certified nurse aide, dental assistant, EKG technician, phlebotomy and medical office aide.
College of the Mainland is one of more than 20 community colleges across Texas celebrating Accelerate TEXAS Week in honor of the initiative that has already helped more than 2,000 Adult Basic Education students work toward a college degree or certificate.
This initiative works to accelerate students' path to a degree or certificate. At COM, this means students are guided in workforce training and academics simultaneously.
This allows students to complete their goals and enter the workforce faster," said Roger Mora, COM career navigator.
Accelerate TEXAS addresses a critical workforce issue: At least 60 percent of Texas jobs will require a career certificate or college degree by 2020, according to the Georgetown University Center on Education and the Workforce. However, an estimated 44 percent of Texans over age 25 have never been to college, let alone graduated.
Of the students who earned a workforce credential through Accelerate TEXAS, 76 percent were employed or enrolled in college three to six months after program completion.
For more information, contact the COM Adult Education Department at www.com.edu/adulted or 409-933-8294.