COM students glean from 567 years of experience
Nov 1, 2016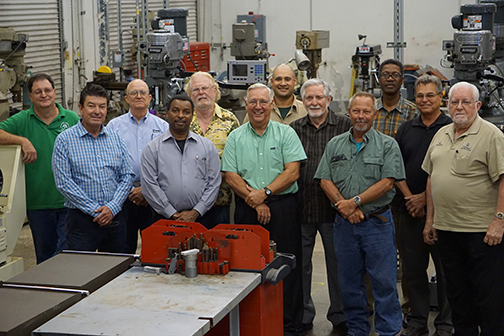 College of the Mainland's 18 industrial education instructors bring a combined 567 years of work experience to COM's Continuing Education Industrial Workforce Programs. That pays off for students who learn through instructors' stories and examples gleaned from an average of 31.5 years on the job.
"Teaching provides an opportunity to share what I know and love. This allows me to express my experiences, lessons learned and their application to my students," said instructor Ernesto Martinez, who has 24 years' experience in the air-conditioning field. "Houston is the air-conditioning capital of the world. Being in the greater Houston area, COM is in the heart of it all."
Lloyd Lindsey has 52 years' experience at Todd Shipyard, Union Carbide and Flowserve Corp. and has taught at COM since the beginning of the Mechanical Maintenance Technician Program.
"Over the years many people have shared their knowledge of this field with me," said Lindsey. "This has helped me learn numerous techniques and processes used to repair and maintain all types of equipment. I am passing on these skills to a new generation of craftsmen."
COM is looking for additional instructors with industry experience to teach technical courses in mechanical maintenance, pipefitting, instrumentation, electrical, HVAC and machining to meet the job growth in the greater Houston/Galveston area. Instructors must have a high school diploma or GED and at least five years of experience in their field.
"Our instructors not only teach the trade but provide insight into the industry and what it takes to be successful," said Laura Baumgartner, director of CE workforce programs.
If you are interested in teaching a course, email lbaumgartner@com.edu.