Book lovers can enjoy $10,000 in new e-books at library
Oct 26, 2016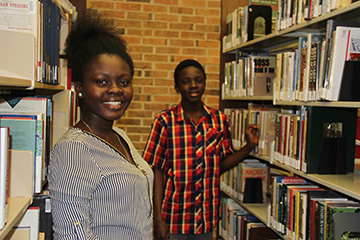 College of the Mainland Library visitors will soon have access to new e-books thanks to a $10,000 Impact Grant for Library Innovation and Improvement.
The COM Library will purchase e-books that support COM courses from a platform called OverDrive.
Community members with a COM Library card and students, staff and faculty with a COM ID can use all library resources. Community members can find out more about getting a library card at libguides.com.edu.
"All our thousands of e-books are accessible online 24/7 on or off campus with a COM Library card or COM ID," said library director Kathy Park.
The COM Library is among 17 libraries to be awarded a 2017 grant, which enables libraries to create or expand their programming and services in ways that impact Texans' lives.
This project is among 73 made possible this year by a grant from the U.S. Institute of Museum and Library Services to the Texas State Library and Archives Commission under the provisions of the Library Services and Technology Act.
Formed in 1909, the Texas State Library and Archives Commission is committed to giving Texans access to information and programs to improve their lives and communities. TSLAC provides historical and genealogical search assistance, federal and state government documents, electronic research and library services to all Texans, including those who are unable to read standard print material because of physical or reading disabilities.
For more information about the COM Library, visit libguides.com.edu or call 409-933-8448.