BP donates $15,000 for COM scholarships
Oct 13, 2016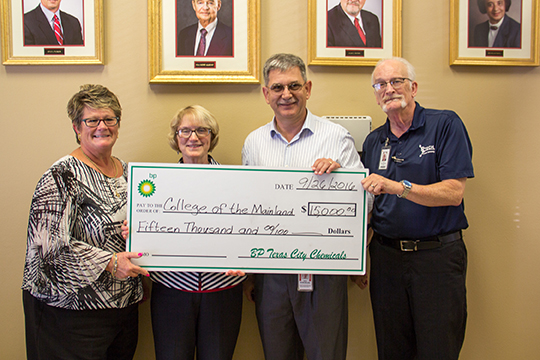 At 17, College of the Mainland Collegiate High School student Emily Andrews, of Bacliff, is on track to earn an associate degree by high school graduation – and a BP scholarship is helping her reach her goal.
"The scholarship helped a lot with financial stability in my family," said Andrews. "I'm the first person in my family to go to college, so Collegiate High School is helping me a lot."
Continuing its partnership with COM, BP has donated a total of $15,000, and $5,000 is to be distributed for COM Collegiate High School scholarships who are working toward high school diplomas and associate degrees. Another $5,000 will go for scholarships for process technology students, and $5,000 for other needs of the Process Technology Program.
"Students in COM Collegiate High School only pay 40 percent of COM tuition costs, but for some students that is still more than their families can afford. These scholarships help students get a head start on college and often earn an associate degree by graduation," said Sandi Belcher, COM Collegiate High School principal.
BP is America's largest energy investor, investing more than $55 billion in the last five years. The company is the nation's second-largest producer of oil and gas and a leading supplier of the chemicals used to make essential everyday products, from plastic bottles to clothing and fiberglass auto bodies. Throughout all 50 states, BP business activities help support more than 260,000 total jobs and contribute tens of millions of dollars to academic research, educational initiatives and recruitment activities.

"We appreciate BP's support of the Process Technology Program since the program's inception," said COM Vice President for Institutional Advancement Mary Ann Amelang. "Industry partnerships are what have helped make the COM Process Technology Program and Collegiate High School Program so successful."
COM Collegiate High School students take classes on the COM campus while remaining eligible for extracurricular activities at their high schools. COM Collegiate High School is open to students in Clear Creek ISD, Dickinson ISD, Hitchcock ISD, Friendswood ISD, La Marque ISD, Santa Fe ISD, Texas City ISD and Odyssey Academy and Abundant Life Christian School, as well as private and home-school students.
For more information, visit www.com.edu/chs.