Electrician lights up COM
Oct 5, 2016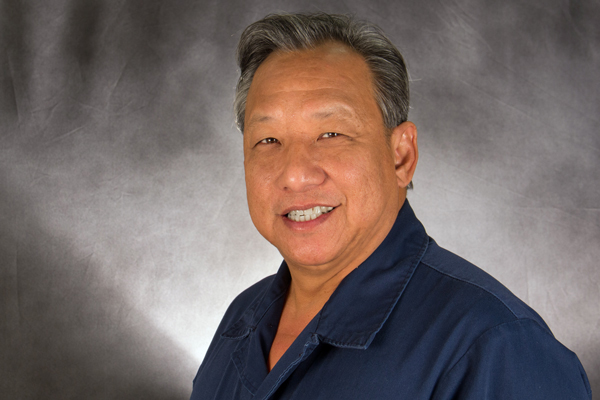 A master electrician, Lorrin Ching installs lighting for the college, works with information technology to wire ethernet cables for computers and provides power for special events outdoors.
"I see what's not working and I fix it," said Lorrin. "I keep the whole college lit up."
In his time at the college, he's improved lighting to the COM Child Development Lab School, repaired parking lot lamps and made campus lighting more efficient.
"I converted Student Center and Learning Resources Center Auditorium lights to LED lights to be more energy efficient and last longer," said Lorrin. "There are more than 100 lights in that room, and the new bulbs can save us $3,000 per year."
He recently set up 150 data communication circuits so the Lifelong Learning Center can power computers and receive wireless internet.
"Lorrin always exhibits a very cheerful attitude and always has a smile. He consistently has shown a can do - will do attitude. Lorrin gets called out at all hours of the day and night and on weekends and never complains," said director of facilities Charlie King.
Prior to serving at COM, Lorrin worked for 30 years as a master electrician for the U.S. Coast Guard station in Hawaii, where he helped the Coast Guard improve safety and increase energy efficiency.