Donors help fund students' psychology lessons in Europe
Sep 27, 2016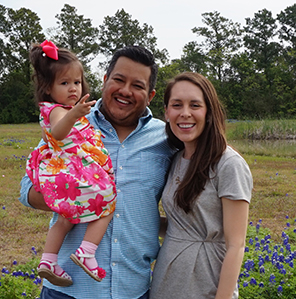 As a college student on a study abroad trip, College of the Mainland professor Doug Alvarez touched the Eiffel Tower in Paris, explored the Coliseum's ruins in Rome and ran with the bulls in Spain.
Now he wants to give other students the opportunity to explore the world.
Alvarez and his wife, Crystal, along with Maria Sanchez and Glenn Alexander, of Sweet Peas Home Health Care, created a scholarship to help four COM students join the History of Psychology in Europe credit class during the summer of 2017.
"There's few things that have the return on investment like traveling. It changed my perspective. I began to see education as more than memorization," said Alvarez. "We want to provide this scholarship for students who might be excluded from the opportunity to study abroad because of the cost. We hope the scholarship motivates students to continue their education and participate in a life-changing experience."
Students will have the once-in-a-lifetime opportunity to explore psychology through the lens of the Louvre in Paris, the Freud Museum in London, and the Natural History Museum and Darwin Centre in England.
"This is the first scholarship for a study abroad program," said Matthew Busby, of COM Foundation. "It's particularly significant that it was started by a faculty member who believes in the program and what it does for students."
Always wanting to give, but unsure where, Doug and Crystal Alvarez had a light bulb moment following a discussion with students about their past travels. Many thought that traveling abroad was nothing more than a dream - many have never left the United States and some have never traveled from Texas.
Two scholarships are designated for students in the Upward Bound Program, which serves low-income, disabled high school students or those who will be the first in their families to attend college. Two will go to COM students who apply, have financial need and demonstrate excellence.
"We are providing half the cost of the trip because we also want to help students in learning how to build connections, fund-raise in the community and work for funds," said Alvarez.
Already looking ahead, Alvarez plans to continue the Ducks Abroad Summer Scholarship next year and hopes others will be inspired as he was to help.
"To the student who is first generation, low income or facing challenging barriers to succeeding in school, the message of the scholarship is a clear one: someone believes in them enough to invest their money for them to study abroad," said Busby.
Since 1967 College of the Mainland Foundation has been making a difference in the lives of students. The fundraising arm of the college, the foundation is a separate 501(c)(3) nonprofit organization. Gifts from alumni, friends, employees, corporations and foundations support and maintain the highest quality of education for COM students through scholarships, vital student programs and instructional innovations across campus.
To learn more about this scholarship or how you can be involved with COM Foundation, please visit www.com.edu/giving or contact Busby at 409-933-8613.
To learn more about the History of Psychology Study Abroad Program please visit ducksabroad.com, www.com.edu/study-abroad, or contact Alvarez at 409-933-8613.