50 Plus assistant serves students
Sep 23, 2016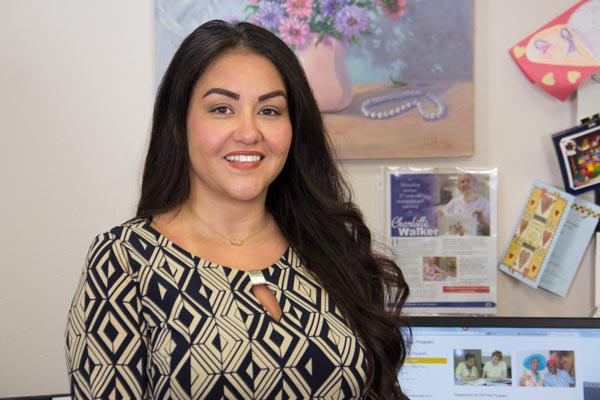 In an office adorned with students' art given as thank you's, Maegan Guzman greets new 50 Plus Program participants.
Assisting students and instructors, Maegan believes in going the extra mile.
"I like to be the first person that students talk to. I like to make their first time registering as easy as possible. Some of them can't hear well or can't drive. One woman couldn't drive, so I let her text me the picture of her driver's license instead so she could still register," said Maegan. "I want the program to be known for going above and beyond."
The program offers education travel trips, lectures and classes to those over 18. Those over 50 can take almost any class for $15 per semester.
"I try to go on one day trip per semester to hang out with them. It's a lot of fun," said Maegan. "We have students who are 18, 30, 90. We have quality instructors. I think everybody can get something from our program."
Maegan assists with registering and communicating with the program's students, numbering 1,047 this fall.
"Her smile is infectious and brightens the day of many of our students on a daily basis. Even as the program has grown over the past three years, she has successfully mastered the challenges of working with more instructors and more students in ways that make each person's experience better. She goes above and beyond to attend events, such as art shows of our students work, on her own time (nights and weekends)," said Alesha Vardeman, COM Director of Lifelong Learning.
At the end of the semester, Maegan sees class results.
"Students often stop by my office and show me their work. They take pride in what they do," said Maegan.