Alumnus displays ceramics at COM
Sep 9, 2016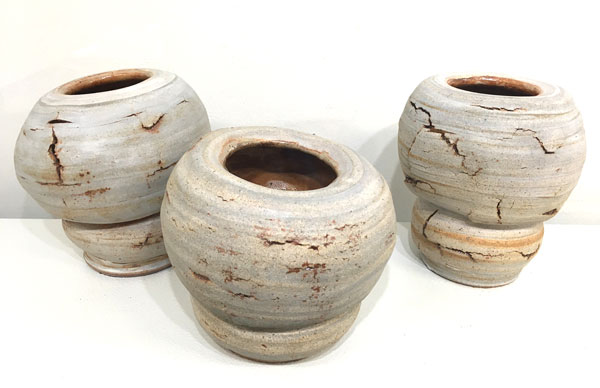 Showing the stages of an emerging artist's progress, a College of the Mainland alumnus' ceramics are now on display in the Fine Arts Building.
After attending COM, Jerry Solomon transferred to Texas State University, where he earned a bachelor's degree in ceramics and he is working on a bachelor's in graphic design.
"Everything in this exhibition has been created because of my curiosity in learning more about the material and a want to continue growing as a creator," said Solomon. "Thanks to the experiences and knowledge I gathered at COM I felt that my adaption to a university was much easier than most of my peers."
Cracks like fault lines run through his ceramics fired repeatedly in a kiln.
"Every semester I was assigned to create a series of work with a concept behind it. For instance, one body of work expressed my struggle of dealing with various forms of pressure before breaking down," said Solomon.
"My approach to this concept started on the potter's wheel by throwing symmetrical forms and covering them with a layer of color. I then stretch the clay, pushing outward from the inside, forcing them to crack, break and nearly collapse. The forms then are subjected to multiple firings in a kiln to permanently capture the precarious state before it succumbs to the external and internal forces. The battered forms are portraits of a individual battling with the pressures they put on themselves from within as well as the those from other outside sources."
COM professor George Bowes taught Solomon in his first college ceramics classes.
"Clay goes from a material that is fluid and wet to a material that is rigid and dry. Jerry explores it in its stages and sees what it will do if you stretch it, form it and exploit it," said Bowes.
Committed to making contemporary artwork accessible, the COM Art Gallery is free and open to the public.
The gallery is located in the Fine Arts Building and open Monday through Thursday, 10 a.m. to 4 p.m., one hour before COM Community Theatre performances and by appointment.
For more information, please contact 409-933-8354 or 409-933-8348 visit www.com.edu/gallery.