Pre-college trains students for success
Aug 9, 2016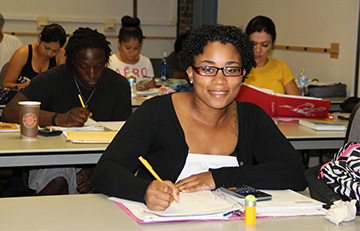 Without a high school diploma or GED, Maria Loredo didn't think she was college material. A few months of College of the Mainland's College Success Academy changed her mind.
"How can someone who didn't finish high school go to college? I'd been out of school for four years. I had a fear of being a failure forever. " said Loredo, of Galveston, who didn't graduate because she failed a final math test. "[Instructor] John Less believes in you like no one else did. If you have to stay late, he'll stay with you."
The eight-week College Success Academy, offered free of charge, is filled with math, science, English and social studies review for GED and college placement exams.
"You get to do a lot of work on your own. You have to research and find a study group,"said Laredo. "As soon as I walked in, I watched the staff, how they really care. They were very patient with me."
She enrolled twice.
"The first time around part of me wanted to quit. It was hard. I have anxiety. Those inner voices say, 'don't do it.' I had a really good support at home. I had a study group and I had amazing teachers. That's why I never quit."
With a GED and newly confident, she has enrolled in the one-year Medical Assistant Program for the fall.
"That little piece of paper – it's amazing how much emotion it holds. I felt accomplished. I was so shy. Now I know what I'm doing," said Loredo.
The College Success Academy mirrors college classes and prepares students for the rigors of projects and tests. It's for individuals without a diploma or GED and those who did not score high enough on placement tests to enter college.
"This shows them what college is really like. We call it boot camp. We show them how to use the library and write essays," said Roger Mora, adult education career navigator.
Last year the College Success Academy served 265 students. In 2016 a total of 150 students from COM's GED and College Success Academy classes graduated with a GED.
The program isn't just academics though.
"Students visit financial aid and advising departments and the Speaking, Reading and Writing Center," said Mora. "We arm them with everything they'll need. They can also record mock interviews and get help with writing a resume."
Mora and instructors help students plan to reach their goal of enrolling in college classes, earning a certificate or graduating with a degree. Mora mentioned one student who revealed he was homeless. Mora connected him with a Galveston shelter and COM's GED classes on the island.
"We link students to other support systems. It's something not a lot of colleges do. It creates trust," said Mora.
Recently the program added optional tutoring with student volunteers from Collegiate High School.
"I've learned a lot from GED students. They work, they have kids, and some are from another country learning English," said COM Collegiate High School student and tutor Jesha Roady. "They always come in here smiling."
"Education is a big boost to your self-esteem," said Loredo. "Now there's no stopping me."
For more information on the College Success Academy, email rmora@com.edu or call 409-933-8294.