A sound adventure at COM
Aug 2, 2016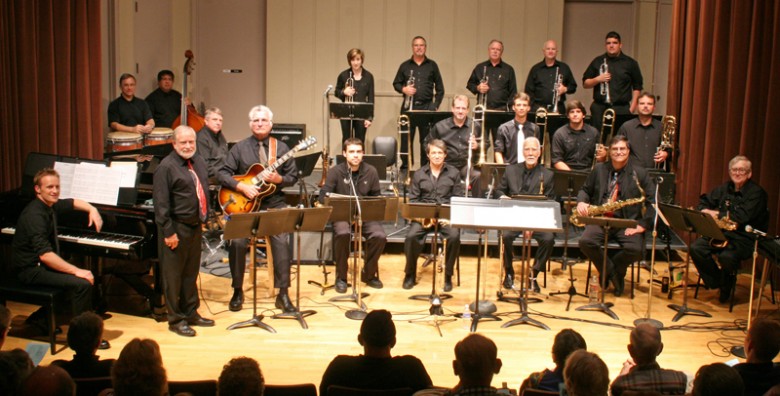 College of the Mainland's Music Department invites all new and experienced musicians to join one of COM's acclaimed ensembles this fall.
"This fall we will bring back the performing ensembles at COM, and we welcome all musicians," said Sparky Koerner, director of the Concert Band, Jazz Ensemble and Jazz Combo.
The Electric Guitar Orchestra, Saxophone Ensemble, Concert Band, Jazz Ensemble and Jazz Combo are looking for musicians interested in group performance. Participants can sign up for any ensemble as a credit or a continuing education class.
The Concert Band performs a wide variety of music from serious concert band pieces to Broadway show tunes to movie themes. It includes many community musicians as well as COM music students and some high school musicians on all instruments.
"This is an excellent band to join if you are getting back into performing after a layoff of playing," said Koerner.
The Jazz Ensemble has a limited number of musicians, and this group requires an audition. This year the group is looking for a pianist and other musicians. Participants should be familiar with jazz styles and have prior experience in a jazz ensemble.
The Jazz Combo is a small group (quartet, quintet and sextet) that gives the player an opportunity to improvise. Musicians emphasize creativity, and understanding jazz is helpful.
The Electric Guitar Orchestra, directed by John Kiefer, presents one of the most popular concerts of the year "Monster Musik" in October. Musicians with electric guitar, electric bass and drumming skills are welcome in this group. Their repertoire includes music from Bach to Jimi Hendrix. The ability to read music or tab is acceptable.
The Saxophone Ensemble uses soprano, alto, tenor and baritone saxophones. The music ranges from Dixieland to contemporary and everything in-between.
All ensembles meet one afternoon or evening per week. No auditions are needed except to join the Jazz Ensemble.
For more information, contact Sparky Koerner at skoerner@com.edu or 409-933-8347 or the Fine Arts Office at 409-933-8348.