Students quickly re-career with Medical Assistant Program
Jul 25, 2016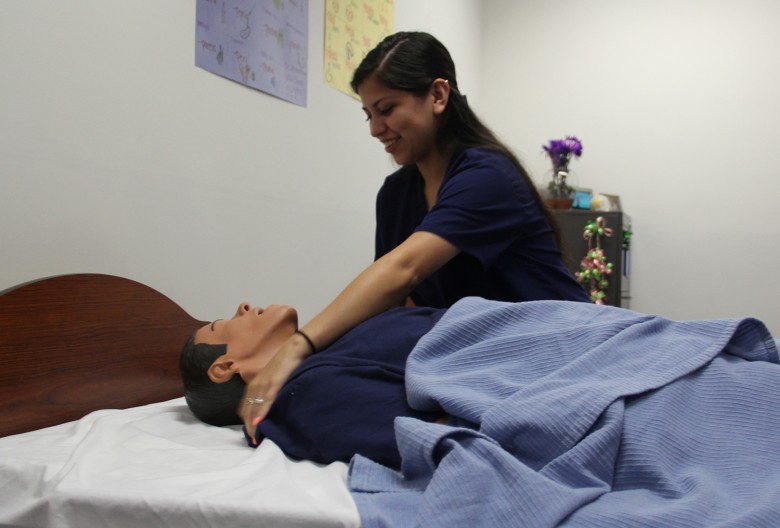 In 1990 Reshmi Dutt, originally of Fiji, turned to COM to earn her GED. In 2011 she returned to the classroom, this time to earn a college education.
"When I went to medical assistant school, the last time I'd been in school was in 1990. I was scared going in," said Dutt. "It was nice and cozy in the COM Allied Health Center in League City. We had a lot of fun in class. It was very hands-on."
She studied intensely for classes like anatomy and physiology, medical terminology, medical insurance, medical law, clinical procedures and laboratory procedures.
"I graduated with honors," said Dutt.
Dutt is now a certified medical assistant after passing the American Association of Medical Assistants licensing exam. Working at University of Texas Medical Branch, she checks patients' vitals, records their medical history, conducts EKGs and prepares them for procedures.
"I love working as a medical assistant. I love being around patients. It fulfills me. I like helping people and making them feel better."
The COM Medical Assistant Program assists students in preparing for certification in three semesters, either through the American Association of Certified Medical Assistants or the American Medical Technology Association.
Individuals working in industry, such as Dutt, serve on an advisory council to help guide the program's curriculum and ensure it is up-to-date.
Students intern at facilities such as the University of Texas Medical Branch and day and evening classes are available.
Alumni are in demand immediately after graduation in hospitals, offices and clinics. COM's program is accredited, and classes transfer to universities if students choose to further their education.
For more information about the program, visit www.com.edu/medical-assistant.