Student mentoring project awarded
Jun 9, 2016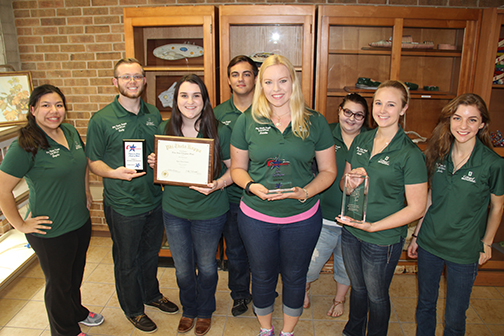 It takes courage to begin college and even more to graduate while juggling family, work and other responsibilities. College of the Mainland students in Phi Theta Kappa, the international honor society, are working to ensure more students succeed, and were named one of the top 100 chapters in the world for their efforts.
This year the students launched Peers That Kare, a project to help COM students finish college by pairing them with an honor society student.
"We helped them overcome challenges on a one-on-one level. All but one came back in the spring after the fall semester," said Kristin LaValle, COM Phi Theta Kappa president.
Students also put together a one-day Inspiring Heroism Through Dialogue Conference, where they invited local high school students who would be the first in their families to go to college to discover more about how to apply for and succeed in college.
"We had college students speak to potential first-generation college students. They talked about experiences that bought us to where we are. We gave them the student's perspective," said LaValle.
At a recent Phi Theta Kappa conference, the Honors in Action Project won an Award of Merit.
For the second year in a row, COM's chapter of Phi Theta Kappa has been named a top 100 chapter in the world. There are more than 1,200 community college honor society chapters worldwide. Chapters are ranked based on service, particularly its Honors in Action (research-based) and College Projects (campus-based).
"The Honors in Action Project is research-driven activism," said Dalel Serda, COM Phi Theta Kappa advisor. "Students research issues in the community and create a plan to assist it."
At the recent Phi Theta Kappa conference, COM's chapter also received the Icarus Award for its Quacking Dead Fun Run raising money for the Fisher House Foundation, which assists veterans.
In addition, Dr. Kris Kimbark, Associate Vice President for Student Success and Conduct, was awarded an International Distinguished Administrator Award for her support of Phi Theta Kappa. She was also inducted into the Texas Hall of Honor for Administrators.
Phi Theta Kappa, the international community college honor society, allows students to develop leadership skills, compete for scholarships and gain assistance in transferring to a university. To be eligible for membership, a student must have a GPA of at least 3.5 with at least 12 college credit hours.
For more information on Phi Theta Kappa, contact Dalel Serda at dserda@com.edu.