Changing communities through art
Jun 6, 2016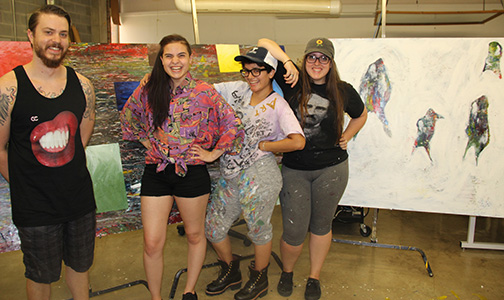 The College of the Mainland Art Club has created two murals now on display with Project Row Houses, an organization that uses art to transform communities in Houston's Third Ward.
"We heard the founder of Project Row Houses [Rick Lowe, a 2014 MacArthur "genius grant" recipient]. He was really inspirational because you heard how communities change. People cleaned up the neighborhood more because they had something beautiful to protect," said student Bibiana Bravo. "It's good to be part of something bigger."
The COM Art Club, as part of a Gulf Coast Intercollegiate Consortium initiative, together painted two murals based on themes "family scenes" and "children at play." Students layered paint for the background and scraped off sections, leaving multicolored figures dancing against the hues.
"It was bringing people together and having fun. It was a really fast process," said student Callie Rankin. "When you collaborate, the [art]work ends up stronger."
The finished pieces are now on display outdoors in the Third Ward in Houston.
The mission of Project Row Houses is to be the catalyst for transforming community through the celebration of art and African-American history and culture. Project Row Houses (PRH) is a community-based arts and culture non-profit organization in Houston's northern Third Ward, one of the city's oldest African-American neighborhoods. Founded in 1993 as a result of the vision of local African-American artists wanting a positive creative presence in their own community, Project Row Houses shifts the view of art from traditional studio practice to a more conceptual base of transforming the social environment.
The COM Art Club encourages the study of art through field trips, collaborations, Friday watercolor workshops, and all-night drawing sessions. For more information, email professor Mark Greenwalt at mgreenwalt@com.edu.