Top COM Fire Academy grads honored
May 25, 2016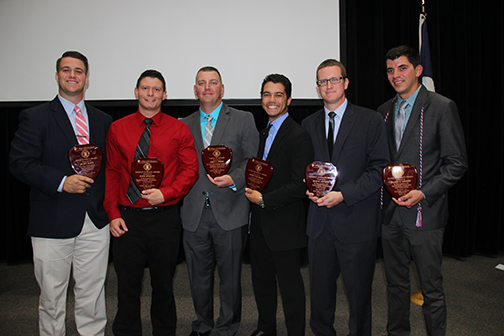 Barreling through tunnels and rappelling down walls, 20 College of the Mainland Fire Academy cadets bonded through 640 hours of training to graduate May 12.
Six students stood out for special awards. Dustin Gideon, of the Night Fire Academy, and Jesse Rubio IV, of the Day Fire Academy, won Class President Awards.
"Ever since I got out of the military I've been looking for a job with the same camaraderie and that I could be proud of," said Gideon at graduation. "I found firefighting."
Rubio also spoke about his class' closeness.
"'Never give up' was our motto. There was not one step I could have done without you. Those guys are my family," said Rubio at graduation. "We're not going to be able to do this job alone. It's a team effort to be a firefighter."
Max Archer and Zane Sweetin won Highest Academic Average Awards. John Pride won the Top Rung Award for outstanding skills in academics, physical training and leadership. Dusty Maes won the Instructor's Award for excellence.
"These graduates will all be there in someone's darkest hour and make a difference in their life," said instructor Stan Kozlowski.
The Day Fire Academy is 16 weeks with classes meeting Monday through Friday. The Night Fire Academy is a part-time program that allows cadets to work at their regular job while completing the academy.
Both academies prepare students to receive Basic Fire Suppression Certification with the Texas Commission on Fire Protection, required in order to be a career firefighter in Texas.