"Bleacher Bums" scores at COM Community Theatre
May 19, 2016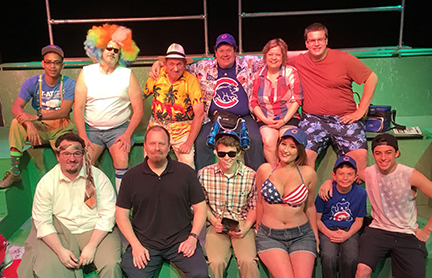 In "Bleacher Bums" the drama on the baseball field is second only to the drama in the stands. Showing at the College of the Mainland Community Theatre May 19 through June 5, the all-too-familiar pang of defeat hasn't dampened fans' enthusiasm for their beloved Chicago Cubs.
From an overzealous cheerleader to blind man listening to the radio play-by-play, die-hard fans cheer, groan and bet on the home team.
"It's a fun show, especially for anyone who's stuck with the home team even when they were not on top," said director H. Russ Brown. "Throughout the play, the audiences listen to the ballgame and sees actors' reactions to double plays and strikeouts in real time."
The play stars COM students and veteran actors of the theatre in a nine-inning comedy the whole family will love.
Since 1972, COM Community Theatre has presented over 228 productions including children's theatre, concerts and workshops with attendance of more than a quarter of a million people. The theatre has been recognized as one of America's leading community theatres, setting high production standards and developing one of this country's most innovative programs.
The play runs Thursdays to Saturdays at 8 p.m. and Sundays at 2:30 p.m.
For tickets, call the Box Office at 409-933-8345 or 1-888-258-8859, ext. 8345 or visit www.com.edu/theatre.