Not giving up: Stroke survivor excels at COM
May 18, 2016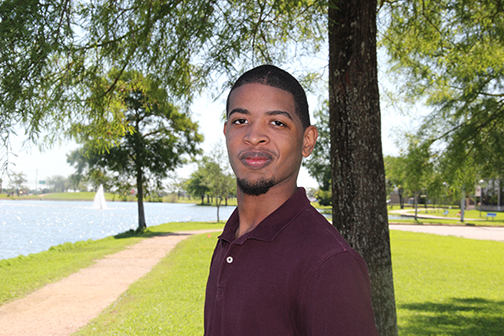 Drew Rogers still bears the scar – a semicircle on the left side of his scalp where doctors removed part of his brain after his stroke at age seven.
An inexplicable stroke while playing soccer left him in intensive care.
"I was in a [medically induced] coma for three weeks," said Rogers. "[Afterward], I had to relearn how to walk and talk. I couldn't even drink water."
He slowly relearned life skills, this time with his left hand since he can only move his right slightly, despite surgeries.
This fall Rogers marked the end of 11 years of physical therapy with another triumph – enrolling in college.
The College of the Mainland student, 18, of La Marque, credits much of his progress to his family.
"They just never gave up. They never gave up praying," said Rogers. "They always motivate me to do better."
Rogers was recently recognized as one of 30 students whose photo and goal statements are emblazoned on posters throughout campus.
His statement reads: "I will never give up on my goals. I'm determined to overcome any obstacles whether it takes one time or several times." His photo reveals his scars.
That determination has served him well. He joined the COM Fit Club and works in the gym, where in his spare time he lifts weights with his left hand.
"Drew plays full court basketball in the gym and gives 100 percent. His brace makes it more challenging but it does not stop Drew," said P.E. professor Jason Abshire, who nominated Rogers for the poster project. "Drew is a wonderful role model not only to his peers but for everyone at COM. His persistence is second to none!"
Math, drums and sports are Roger's loves.
"I will try my best on everything. You might see me limp a little," he said of his slightly dragging his left foot when he walks. "I can run."
Rogers plans to earn his associate degree and then a bachelor's degree, most likely in business.
"I don't really say I'm disabled. I'm a regular person. I never thought I would get this far but I don't give up. I worked too hard and too long to get here. I'm finally in college. I almost finished my first year," said Rogers. "I just want to keep going as long as I can as far as I can."