Mainland Medical Auxiliary gives $20,100 for COM scholarships
May 13, 2016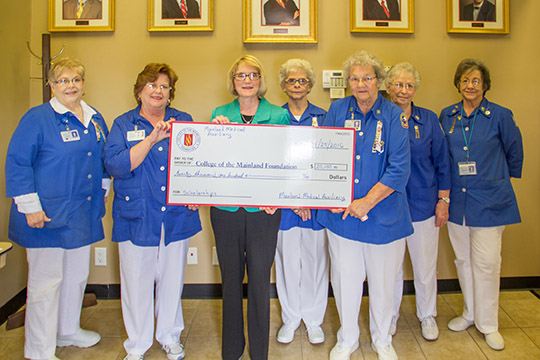 Continuing its support for College of the Mainland nursing programs, the Mainland Medical Volunteer Auxiliary recently donated $20,100 to fund scholarships for nine COM nursing students next year.
"We have 70 volunteers. We all work for [the funds]," said Jere Cook, chairman of guest services and scholarships and charitable organizations for the auxiliary. "We have the gift shop at the Mainland Medical Center Hospital. At Thanksgiving we have a huge bake sale. We have a coffee cart and sell candy. This year we gave to four different charities."
For COM student Latisha Griffin, the scholarship came just in time.
"I was not able to get financial aid. [The Mainland Medical Center Volunteer Auxiliary scholarship] covered tuition and my books. I was able to get a laptop," said Griffin, of Texas City, who will graduate with an associate degree in nursing this month. "It relieved the stress of paying for school."
Six $3,100 scholarships will go to associate degree nursing students and three $500 scholarships will go to certified nurse assistant students.
"The scholarship has helped me out in so many ways. I have been so stressed because I had no idea how I was going to pay for my nursing classes. The scholarship has kept me focused on my classes more and less worried about financial difficulties," said a 2015 Mainland Medical Auxiliary scholarship recipient, Shacara White, of Manvel.
The Mainland Medical Auxiliary has served the community since 1958 and raises funds through the Mainland Medical Center Gift Shop and other fundraisers. In the past three years, it has donated more than $50,000 for student scholarships.
COM Foundation is a separate 501(c)(3) nonprofit organization. It awards more than $100,000 in scholarships to COM students each year.
For more information on how you can make a difference or apply for a scholarship, visit www.com.edu/com-foundation or call 409-933-8613.