Grant gives petrochemical students fresh start
May 9, 2016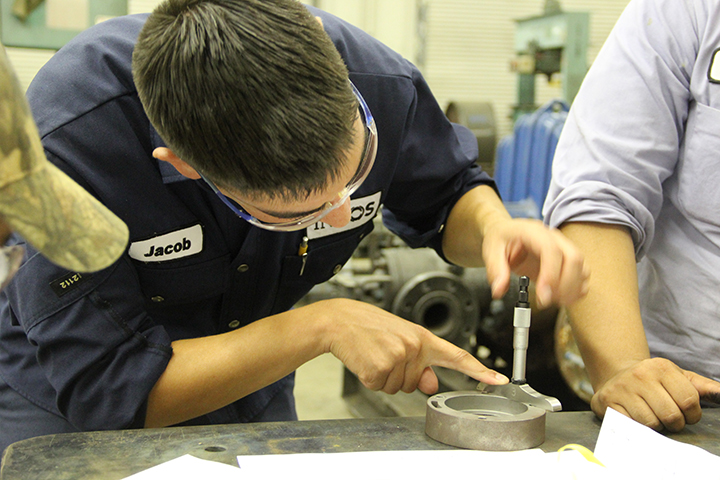 In today's economy corporate changes can happen quickly, leaving longtime workers unemployed.
A College of the Mainland grant is helping individuals train for in-demand jobs.
Celso Quiroga, of Galveston, excelled at making titanium stints for a small medical device company until it was bought out by a large corporation. The takeover left Quiroga without a job.
Needing options, he applied for unemployment and learned through the Workforce Solutions office in Texas City of the Ready to Work Grant at College of the Mainland (COM), which prepares individuals for in-demand jobs within the Gulf Coast region.
"It was simple to enroll. Ginger [Hinckley, H1-B Grant Recruitment Specialist] helped me apply," said Quiroga, a current H-1B grant student. "I can go to school and it's paid for. It'd be foolish to pass this up."
Quiroga chose to attend COM Mechanical Maintenance Technician Program courses, which are preparing him for a career in the oil and gas industry.
"I like that the classes are small," said Quiroga, adding that they are taught by professors with years of industry experience.
Besides mechanical maintenance and machining classes, students can choose from programs such as welding, electrician helper, process technology, drafting, project management or Lean Six Sigma courses.
"The goal is to train new workers for careers and current workers for promotion opportunities in the oil and gas industry as quickly as possible," said Chris Hollman, COM H-1B Gulf Coast Ready to Work Project Coordinator. "Once you gain the skills, it's important to promote and sell your skills to an employer. Resume writing and mock interviewing are part of the career support services offered."
The H-1B Gulf Coast Ready to Work Grant is for individuals that have at least a high school diploma or GED and who desire to launch or advance their careers in the petrochemical and manufacturing industry. The Department of Labor H-1B grant will pay tuition for training individuals toward an associate degree, college certificate or industry-recognized certifications.
"I would have had to take out a student loan [without this]," said Branden Sypult, a full-time process technology student of League City.
Besides helping participants earn a degree or certificate, the program provides career placement services and job fairs.
Students can learn more about the program during the one-hour information sessions: May 17 or 26 from 12:30-1:30 p.m. in the COM Student Center.
For more information about the H-1B Gulf Coast Ready to Work Grant, call 409-933-8643, email GCRTW-Grant@com.edu, or visit www.com.edu/ce/gcrtw-grant.