Top speakers awarded at COM
Apr 22, 2016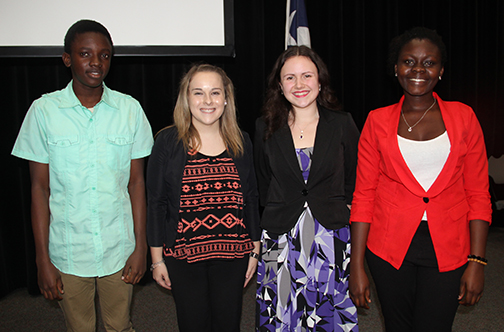 Four College of the Mainland students presented passionate speeches on topics from equality to the need to protect endangered black spider monkeys at the college's first QEP Speech Contest last week.
Esther Akinwande, of Seabrook; Greta Silvertooth, of Texas City; Samuel Akinwande, of Seabrook; and Quincy Reynolds, of Friendswood, spoke on topics from black spider monkeys to equality during College of the Mainland's QEP Speech Contest. The presentations were part of COM's Quality Enhancement Plan (QEP), which focuses on excellent oral communication across the curriculum.
"It made me step out of my comfort zone," said Esther Akinwande.
The students were nominated by professors in different subjects for excellence in their class presentations and auditioned to speak at the QEP Speech Contest. Each presenter earned a cash prize.
"I decided to do [my speech] on something I love," said Silvertooth. "I learned I'm not as nervous as I thought I was."
The competition is designed to allow students to improve their speaking ability while allowing others to observe excellent speeches. The contest is part of the college's initiative to help students develop communication skills, which are highly valued by employers. Many classes in various subjects now have students give an oral presentation and staff will assist students in the Speaking, Reading and Writing Center.
"I went to the Speaking, Reading and Writing Center before my speech. The tutors helped a lot," said Samuel Akinwande.
For more information on COM's Quality Enhancement Plan, visit www.com.edu/qep.