Time and place symposium at COM April 29
Apr 18, 2016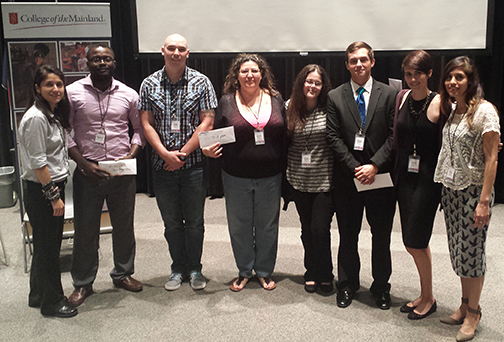 College of the Mainland will host the fourth annual Gulf Coast Intercollegiate Consortium Academic Symposium April 29 from 9 a.m. to 4 p.m. to showcase top students' projects in all subjects.
The theme is "Time and Place as Context," and the event is open to the public. Students from colleges and universities across the Gulf Coast will consider how time and place influence people's actions and opinions. They will present their projects in the arts, math, sciences, social sciences, humanities and technical fields. Sample questions include: "Does time and place affect the way we define equality? Do medical practices vary depending on time and place?"
"Each year students from COM and other colleges and universities in the region surprise attendees with their insightful contributions to academic discourse," said organizer Dalel Serda. "The intention is to enable students and their supporters to think more deeply than they are able to do in the classroom while sharing in networking opportunities."
The keynote speaker is Dr. Veronica Sanchez, a graduate of the University of Houston where she conducted research on the structure and tectonics of the Tibetan Plateau. She is currently assistant professor of structural geology at Texas A&M - Kingsville where she teaches and conducts research on crustal deformation and mountain-building processes. She has recently explored areas in Canada, Mexico and west and central Texas.
While being open to the public, presentations are judged by a panel. Top students in each subject will be awarded: best presentation – $225, second place – $175, third place – $125, fourth place – $75, honorable mentions – $50.
COM strives to offer academically challenging opportunities to students across the region. The college frequently invites regionally and nationally known speakers to share their expertise and experience.
For more information, visit www.com.edu/symposium.