New COM Foundation scholarships announced
Apr 4, 2016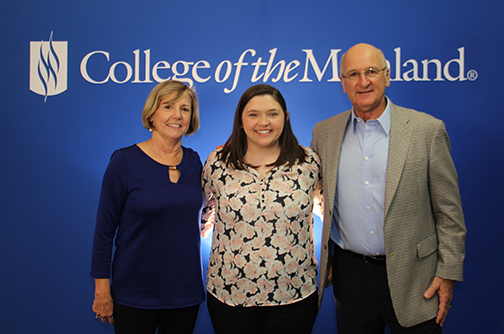 Nearly 200 attended the College of the Mainland Student-Donor Luncheon, which allowed students to thank individuals and companies for their generosity in creating new and continuing previous scholarships.
This year, donors created seven new College of the Mainland Foundation scholarships.
Monique Wylie, recipient of the Angelo and Amelia Amato Memorial Scholarship from Texas City, shared her story:
"During my senior year in high school, my grandmother was diagnosed with colon cancer, and then in my freshman year of college she passed away. That's when I decided nursing school was where I wanted to be. What this scholarship has done for me is allow me to be one step closer to my goals."
New endowed scholarships, which are set up to last forever, include the Matthew T. and Deborah L. Doyle Family Scholarship, created by Texas City Mayor Matthew Doyle and Deborah Doyle; the Max E. and Bonnie S. Thornhill Nursing Scholarship, created by COM director of nursing Dr. Jere Hammer; and the NAPTA Process Technology Scholarship, created by the North American Process Technology Alliance.
In addition, new annual scholarships include the Chevron Phillips Chemical Company Scholarship, the COMPeers Scholarship, Richard T. Liening Memorial Welding Scholarship and Praxair Women in Process Technology Scholarship.
"The scholarship means a lot to me," said Jason Stafford, 33, a recipient of the Pace Process Technology Scholarship who grew up in League City. "When you see a list of all these companies and industry representatives donating money for process technology students, they're not just paying for school, they're investing in the future of the industry. [They're] motivating us to keep getting good grades and be the best person we can so when we graduate we can just jump right in."
COM Foundation awards more than 100 scholarships annually to part-time and full-time students in all majors.
"Whether a small gift or large, people who have invested in COM students have made a difference in the lives of thousands of COM students over the past 50 years," said Matthew Busby, COM Advancement Officer.
Since 1967 College of the Mainland Foundation has been making a difference in the lives of students. The fundraising arm of the college, the foundation is a separate 501(c)(3) nonprofit organization.
For more information on COM scholarships, visit www.com.edu/scholarships or call 409-933-8508.