Student finds birth mother after 30 years
Mar 30, 2016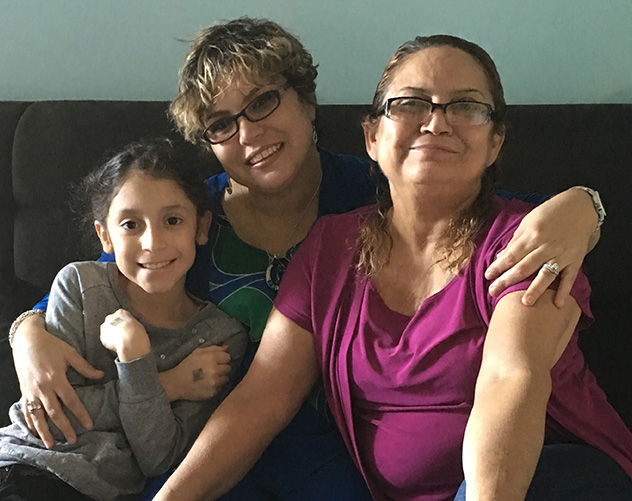 For 33 years, Rose Pipkin, a College of the Mainland student from La Marque, searched for her biological mother. She didn't know that for 33 years her mother sought her.
Kidnapped by her father at four, Pipkin had only a first and last name "Carmen Dolores Durán" and a birthplace "Manhattan." It was too common a name and too large a place to do much online searching so she went about it the old-fashioned way: going door to door with a photo of her mom in the Bronx, the last place her father remembered her mother living.
"I had a birth certificate, my name, my dad's name, my mom's name," said Pipkin.
For five years, nothing turned up, and phone calls to Carmen D. Durans in New York were met with "wrong number." Pipkin grew discouraged.
Meanwhile Pipkin's friend Miguel Ortega volunteered to take the photo each time he traveled to visit his grandmother in New York. Finally, after several trips, a stranger recognized the photo, knew her mother's sister Aida Duran and gave Miguel Aida's phone number. Miguel called Rose and informed her about his discovery.
"I called my aunt and she interviewed me," said Pipkin.
Pipkin recited the details of her birth – she was delivered in the restroom of the movie theater on 42nd street where her father worked.
"Aida started screaming and getting emotional. She said 'I need to calm down and call you back. We thought we'd never find you,'" recalled Pipkin.
Her aunt Aida gently relayed the news to her mother before Pipkin called her Feb. 5, and Pipkin took the first plane to meet her mother Feb. 12.
"My mother thought I was in Italy [Pipkin's father is half Italian]. When she saw her mom, Pipkin recognized herself.
"When we talk, it's like talking to yourself in the mirror. She's very energetic. I see where I got the energy and bubbly character," said Pipkin.
Pipkin also met her extended family – five generations.
"I have an older sister. She's a rapper also known as AD The General. I have an older brother name Carlos. He's a minister, and I have a younger sister named Josie," said Pipkin. "It was such a roller coaster. I didn't sleep when I was over there. It was a lot of excitement that I was there – so much love."
She recognized her little sister; they once lived within a block of each other in California, neither knowing who the other was.
"When [my mom] saw me she was so proud that even after all (that) – I was in a foster home for a certain time, thinking I was unloved – I still became something."
Pipkin works in the COM Veterans Center through the VA Work-Study Program, assisting veterans and their family members in applying for education benefits. She is pursuing an associate degree in general studies at COM while taking nursing prerequisites. Her education is covered by military benefits – her husband retired after 20 years in the Marines and still serves as a ROTC Instructor.
She is also a member of Phi Theta Kappa, the international community college honor society and the Veterans Organization at College of the Mainland.
In addition to assisting veterans, she encourages those searching for a loved one.
"To all the kids out there raised without one parent, they can't give up faith. Now deep down, I know. I was not left. I was loved," said Pipkin. "I was looked for, so I am at peace."