From Peru to COM, finding a home
Feb 4, 2016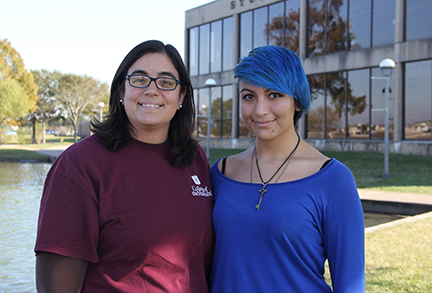 One advantage of a community college is its convenience and localness, but some students travel over 4,000 miles to come to COM.
"We don't have a community college system in England," said English student Harry Hathaway. "It's cheaper for me to be at a community college and pay out-of-state tuition than a university there, and it's more beneficial academically."
A natural science major, Hathaway plans a bachelor's degree in engineering.
"I get the experience of being in a different country," said Hathaway. "The teachers seem more involved (here)."
While Hathaway came for the affordability and American experience, Carla and Christina Terry came from Peru to be closer to family and gain new opportunities.
"It was hard at the beginning because English is not our first language. The first day is pretty scary," said Christina.
They found assistance in teachers, tutors and COM Speaking, Reading and Writing Center staff.
"I went to teachers if I didn't understand something. With math, I went to the lab," said Carla. "They were really friendly."
Attending grade school in Peru and high school in Spain, Carla discovered at COM that she enjoys psychology. Christina, who worked for a phone company for years, now plans a degree in health care.
"In Peru you have 40 or 50 persons in one class. I didn't expect (close) relationships with my teachers," said Christina. "Every time I need something they are always there to help me."
Students who are not U.S. citizens and live outside the U.S. must apply for an F-1 Visa (non-immigrant student visa) at the American embassy in their home country. They must also apply to the college and test for English proficiency.
"It has been a pleasure working with Christina and Carla as F-1 International Students," said Tamara Hoodye-Harris, director of admissions/College Connections. "They have made my job much easier by progressing through their programs with ease and sustaining academic excellence while studying here at COM."
Once at COM, international students can access all of COM's resources plus meet with advisors.
"You think that a big city or university is better, but here you have everything you need," said Christina. "In a big college you are an ID. I like (this) more. You are not a number. You are important."
For more information, call 409-933-8653 or visit www.com.edu/international.