LVN students overcome loss, challenges to excel
Jan 8, 2016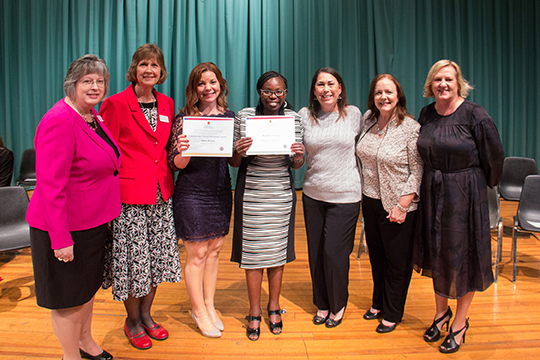 Two students who overcame challenges were recently awarded at the College of the Mainland Vocational Nursing Program pinning ceremony. Magdaline Njoroge won the Student of the Year Award and Amber Bostick won the Outstanding Clinical Performance Award.
Njoroge worked in health care in Georgia but wanted to challenge herself to advance. She applied to COM's VN Program, was accepted and moved to Texas in 2013.
"I came from Africa in 2006. I wanted to help people since I was a little girl before I came to America," said Magdaline. "I have a passion for helping people."
Excelling in clinicals and class, she is currently studying for the licensure exam. She plans to apply for COM's Associate Degree Nursing Program to continue her studies.
"Faculty came together and determined the student who has stood out among the rest," said professor Debbie Smith. "We look at someone who exhibits a high standard of camaraderie, maintains excellent grades, and is professional in and outside the classroom. Magdaline excelled in all of those areas. Every single clinical site had a high recommendation for her. She's been an inspiration to other students and to the staff."
When Bostick, of Texas City, graduated from the VN Program and walked across the aisle to receive the Outstanding Clinical Performance Award, her family applauded, but one was missing.
"I just lost my mom last week of finals, and I couldn't see going on, but I felt her pushing me," said Bostick. "The instructors were so supportive. When I walked out of (my last) test, Dr. Smith gave me orchids. They were the exact color and patterns of ones I gave my mom. I felt like they were from her. They had a rose and seat for her (at the graduation ceremony). It was very sweet of them. She was there in spirit."
Bostick also plans to go to the COM LVN to RN transition program while working as an LVN.
"It helps to have it and get that year of experience while in school. It takes the same amount of time," said Bostick.
Her children were her inspiration.
"I have three small kids. They're my drive," said Bostick. "You do their homework before yours. I have two who have asthma and a lot of times I would be up at night with them and then do clinicals, but it's worth it. I knew it would pay off."
She and her youngest would come to COM together, Bostick in class and her daughter in the COM Child Development Lab School.
"I've always been inspired by nurses. In my teens I was very sick," said Bostick. "And nurses to me give people hope. I wanted to learn how I could give back to others."
The COM Vocational Nursing Program, begun in 2005, is approved by the Texas Board of Nursing. Graduates are eligible to apply for licensure by examination as licensed vocational nurses (LVNs). The program is open for application now for the spring 2017 class.
The COM LVN to RN Transition Track is open for application now for the summer 2016 class.
For more information, visit www.com.edu/nursing.