Nine graduate from COM Fire Academy, pass state exam
Dec 18, 2015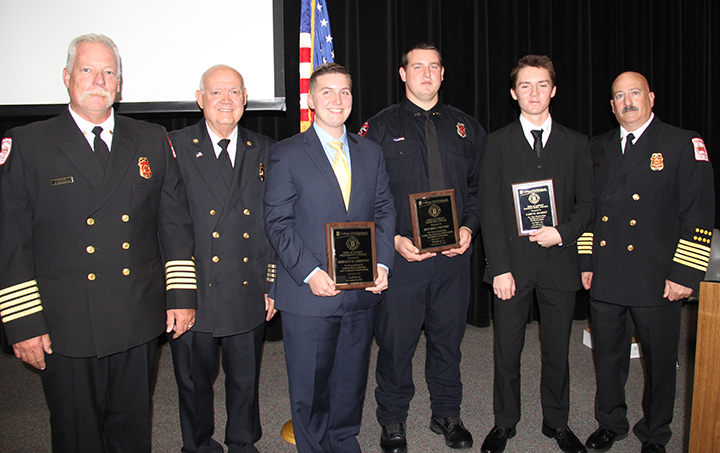 After 16 weeks filled with rappelling, crawling through tunnels and simulating rescues in rooms the class president described as "hot enough to bake cookies," nine cadets graduated Dec. 10 from the College of the Mainland Fire Academy.
Cade Martin Bilbrey, Emmalyn Kay Christian, Devin Tige Corenelius, Makayla Nichole Hebert, Chad B. Jones, Cory Mitchell League, Tyler Benavides Rushing, Benjamin Scott Van Dyke and Jacob Lee Wood completed COM's 640 hours of training, well over the 468 mandated by the state.
"I've been in fire service 46 years. I've been training at a community college level for over 20 years," said COM Director of Fire Technology Danny McLerran, thanking fire departments who allow COM students to train at the facilities. "Our instructors want to carry on a tradition of not just training firefighters, but training good firefighters."
All members of the class passed the state licensing exam. In addition, three students – Bilbrey, Christian and Van Dyke – received awards for outstanding work.
Christian, of Seabrook, served as class president and leader.
"We learned about what we were made of, our own fears and strengths. We learned to conquer our fears," said Christian, who is employed by the Texas City Fire Department. "The class started with nine cadets and I'm proud to say we finished with all nine."
Benjamin Van Dyke, of League City, won the Top Rung Award.
"The Top Rung Award winner has to meet high qualifications, have a high grade average, be outstanding in all physical skills and be outstanding in leadership skills," said McLerran.
A volunteer with the League City Fire Department, Van Dyke is planning to next earn his emergency medical services certification at COM.
"I like all (parts) of the job, helping people. We get a lot of fire alarms and vehicle wrecks," said Van Dyke. "(The Fire Academy had) physical training, but more mental stuff you had to work through. Some people get scared of heights; some people get claustrophobic."
Bilbrey won the Instructors' Choice Award.
"He did skills and academics well," said McLerran. "I don't remember him ever quitting."
Mike Wisko, Fire Chief of the Galveston Fire Department, spoke at the ceremony.
"80 out of 115 Galveston firefighters have graduated from COM," said Wisko. "It takes dedication and commitment to finish training. This is not a one-person job; it takes a team. At the fire station, we're a family."
COM offers a day academy, night academy and associate degree in fire technology as well as continuing education courses.
For more information on the COM Fire Technology Program, visit www.com.edu/fire-technology.