Swashbuckling workshop arms high school students for stage
Nov 6, 2015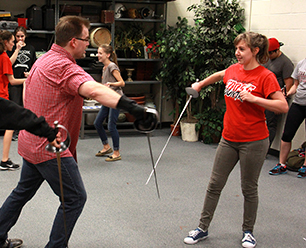 Swords swooshed through the air and clanged as steel struck steel.
"Save yourself!" a swashbuckler shouted to his partner.
During a workshop for students in the theatre club at Clear Brook High School, H. Russ Brown, College of the Mainland professor and theatre director, called out directions: "Think of this blade as an extension of your finger" or "Turn your wrist as if smelling perfume on it."
Brown, a Certified Teacher with the Society of American Fight Directors, demonstrated the proper way to wield a sword – the way that will avoid hospital visits. He also guided students in swashbuckling staples such as the Glasgow eight and Spanish seven.
"The Glasgow eight is where you move the sword across your body and hit the other person's sword," explained student Cassidy Lufkin.
By the workshop's end, students could parry, lunge and thrust in slow motion, creating a dance of swords.
"Create some beauty. Show us the beauty of the choreography you can make," instructed Brown.
Students applauded the finale of a clash between Hook and Peter Pan.
"I'm going to tell people I sword fought. I'm a pirate now," said student Lindsay Stockley.
After arriving at COM this semester, Brown, who holds a Master of Fine Arts in acting from Western Illinois University, volunteered his expertise in theatre to local schools that requested it.
"I want theatre arts teachers to think of COM Theatre as a free local resource," said Brown, who has worked for over 100 shows – and one video game. "I can teach dialects. I'm doing a juggling workshop."
Brown offered the workshop at the request of Jenny Grabowski, director of theatre arts at Clear Brook High School.
"He's teaching them a cockney dialect class in December," said Grabowski. "Cockney's fun. Everyone likes to talk like a guttersnipe."
COM technical director Curt Meyer also offers expertise to schools and organizations looking for guidance in lighting, sound and scenic design.
For more information on the COM theatre program, call 409-933-8544.