Despite loss, COM graduate excels in intermediate care
Sep 25, 2015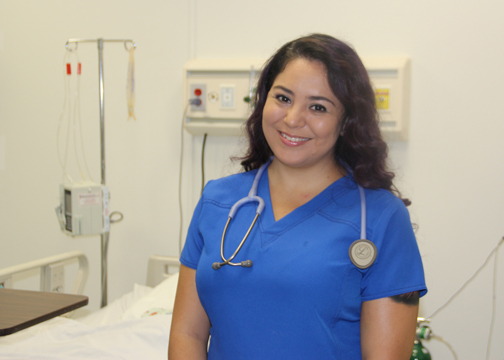 Vanessa Godfrey remembers the moment she knew she was supposed to be a nurse.
During clinicals she cared for a patient particular about her care, wanting five blankets pulled up one at a time.
At the end of her shift, she went to say goodbye.
"I made it a habit at the end of my clinicals to thank patients for letting me learn," explained Godfrey. "She said 'wait a minute.' It was just a piece of chocolate (she gave me). I made her happy."
It was the reason she entered the field after 10 years of working in an office.
"I missed interacting with people. I missed making people smile," said Godfrey.
Her husband went through paramedic training at College of the Mainland; she chose the COM Associate Degree Nursing Program.
It was an intense two years of classes, clinicals and caring for her two children.
"When I got in a bind, instructors encouraged me," said Godfrey. "My grandmother passed away the week before finals. She was one of my biggest supporters, so it was tough losing her. My instructors encouraged me, saying she'd want me to do this."
She passed the registered nursing licensing exam, honoring her grandmother's memory with a certificate and getting a rose tattoo her grandmother had always wanted.
Now she's working in the intermediate care unit at Memorial Hermann Southeast Hospital, caring for others' loved ones.
She recently returned to the college to thank her professors.
"If it wasn't for (instructors) I wouldn't have been able to be here," said Godfrey. "They all pushed us in one way or another."
COM Associate Degree Nursing Program graduates boast a high pass rate on certification exams. Students in COM's rigorous program learn through classroom instruction and clinical rotations in hospitals and other health care facilities in Galveston and on the mainland.
Students benefit from COM's small student/faculty ratio and state-of-the-art lab equipment, including the SIM Man, a computerized mannequin that simulates a variety of conditions. Students may assess his condition, respond and observe "real life" changes in his condition.
For more information on the COM nursing program, visit www.com.edu/nursing.