Date with Destiny at COM to show women career options
Sep 22, 2015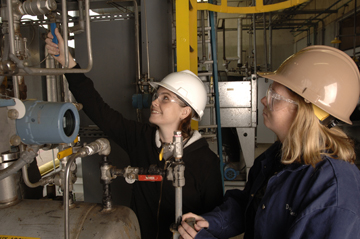 As industry jobs expand in the Gulf Coast area, College of the Mainland and other community college partners will host a career forum for women called "Date With Destiny, Texas" Oct. 8 from 8 a.m. to 3 p.m. at the Double-Tree Hilton Hotel, Houston Hobby Airport. The event's purpose is to create a platform for females that will introduce, educate and increase awareness of the oil and gas and petrochemical careers that will hugely impact the industry in the next five to 10 years.
The target audiences for Date with Destiny are pre-college, college students and women looking to re-career. Event speakers and volunteers are primarily women who have worked in the industry in a technical field or as a process operator. Each will share their experience, provide advice, discuss their career pathways and help inspire all who attend to strongly consider a fulfilling and exciting career in a high-demand field.
The event will also include college and career information, interview and resume workshops, panel discussions, information on community colleges, financial aid and scholarships, and there will be time set aside for candid discussion and questions. Free breakfast and lunch will be provided throughout the day.
"This is the right time for anybody to get in the field," said College of the Mainland welding instructor Doc Miller, a 20-year veteran of the field. "More companies call us looking for qualified students than we have students."
Date with Destiny is an innovative program that supports Shell's strategy to attract women to technical careers that are in high demand in the industry.
"There is increasing interest to attract diverse talent to the industry and especially women as they have proven to provide great bench strength to teams and are increasingly recruited for high-skilled, high-paying jobs across several industries, especially in oil and gas," said U.S. and Canada Operations and Crafts Recruitment Manager David Smith.
Shell is a global group of energy and petrochemicals companies with around 94,000 employees in more than 70 countries and territories.
COM supports women in industry through hands-on training in welding, mechanical maintenance, machining and process technology.
For more information or to register, visit www.com.edu/destiny or call 409-933-8675.