COM student shines on and behind the stage
Sep 11, 2015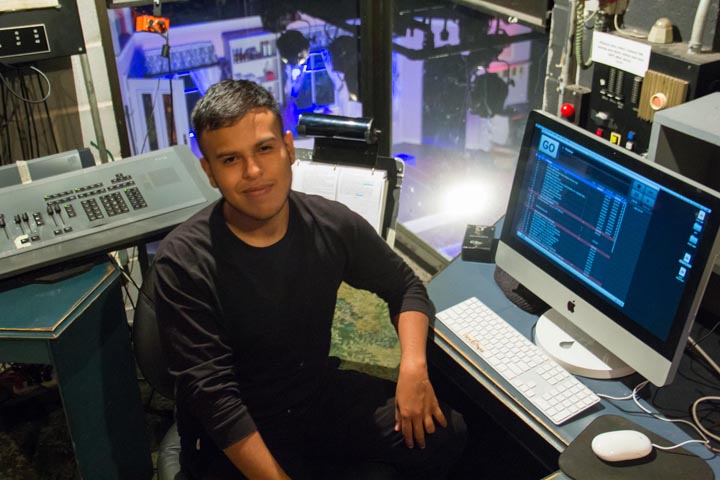 Playing the man behind the curtain, the Wonderful Wizard of Oz, in elementary school sparked Max Estudillo's passion – theater.
"I've been in theater since I was 10, half of my life," said Estudillo, 20, of Texas City.
The second-year College of the Mainland theater student is now stage-managing COM Community Theatre's current production of "Steel Magnolias." He shines the spotlights, sets the soundboard and adds the occasional prop.
"It's (pressure) on technical people (because) the whole show would not be the same without them," said Estudilllo. "I'm nervous on audition day and opening night, but it turns into energy and it helps me."
Wanting to be "a well-rounded theater person," Estudillo was also seen singing and dancing in the ensemble in "9-5: The Musical" and in character roles such as a Mr. T impersonator in "The Wedding Singer."
"I think it's great to live for a few hours in someone else's shoes," said Estudillo.
Estudillo attended Dickinson High School, where working on a production of "Cat in the Hat" with kids first inspired his major.
"I want to be a theater teacher so I can bestow those skills and knowledge to other students," said Estudillo.
He credited Dickinson High School theater director Laurel Powell, who is directing "Steel Magnolias," the late COM theater director Mark Adams and Curt Meyer, COM professor and technical director of "Steel Magnolias," with guiding him.
"He's one of my role models in the department. He always looks out for me. He tells me about opportunities.
"I have a crazy schedule," explained Estudillo, who attends school full-time, works at HEB and attends rehearsals. "But his support is what drives me to be a better person."
His work is paying off, and last year Estudillo had his first professional acting job in an Irish Christmas show for Houston Revels.
He's not planning to slow down, and he will stage-manage two upcoming COM shows "Nunsense" and "Round and Round the Garden."
"Most shows have a message," explained Estudillo. "I feel like I'm helping the community by telling a story through arts."
For more information on the COM Community Theatre, visit www.com.edu/theater or call 409-933-8345.
For more information on the COM Associate of Arts in theater, visit www.com.edu/fine-arts.