Bands to Beyonce: COM grad styles models, musicians
Sep 4, 2015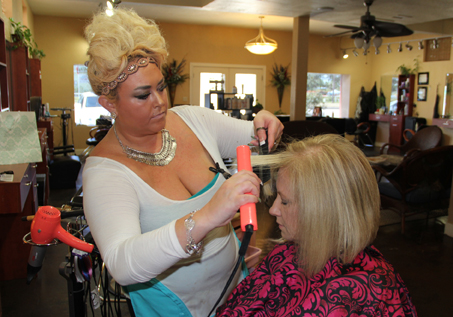 The spotlight glaring and bass blaring, One Republic rocks out.
Behind the scenes, stylist Nikki Gott has created a daring look to fit the mood.
A certified Redken colorist and freelance MAC makeup artist, Gott styles clients for weddings, photo shoots and print ads. Deft with a makeup brush, and ready often at the last minute, she prepares musicians such as Chris Daughtry, Candlebox and One Republic to rock out under the spotlight.
"I worked with Beyonce once. It was a freak thing. Someone called and said that the makeup artist couldn't make it. It was cool experience," said Gott. "The coolest was being flown to Denver when Daughtry's stylist couldn't make it."
Now she teaches others.
"I did a Rockaholic class with Scott Dowers, a platform artist for Toni and Guy," said Gott. "I learn something new everyday. I still watch (other stylists) we learn from each other."
Beginnings
Entranced by cosmetology from childhood, Gott began at College of the Mainland, becoming a member of Phi Theta Kappa, the international community college honor society, an award that still hangs by her work station. She also served as president of the COM Cosmetology Club, which helps with events such as Project Cinderella, which gives girls hairstyling, makeup and manicures before the big day.
"All of the instructors are great. The pass rate (on the cosmetology operator state exam) is so high because they take the time to teach you everything," said Gott. "They'll go over it and over it, and they'll stay late for you."
After becoming licensed, Gott apprenticed for three months, then worked for a salon and now rents space at Expressions Hair Studio in Kemah.
"Cosmetology is a lot harder than people think it is. If someone comes in and has green in their hair, you have to know chemistry to correct it," said Gott. "It takes hard work and dedication."
Giving back
A member of community groups, Gott notices opportunities to give back. Recently she gave a haircut to a woman who lost her home in a fire. She saved a Saturday for free back-to-school haircuts for kids who may not otherwise be able to afford them.
"I'm so blessed, so I think you should give back," said Gott.
It's just one reward of cosmetology.
"The best thing about it is when I'm at work, I don't feel like I'm at work. I enjoy what I do so I don't feel like I'm working," said Gott. "If someone has a bad day, you're like their therapy. They come in a bad mood and leave in a good mood. I get to make other people happy."
The College of the Mainland Cosmetology Program prepares students for success at a fraction of the cost of private institutions. With hands-on experience at the Salon at COM, students train for state exams and for jobs as independent or salon stylists.
The Salon at College of the Mainland is located at 15009 Delaney Rd. in La Marque. For more information, call 409-933-8480 or visit www.com.edu/cosmetology.