COM Foundation gala to honor Callender, UTMB Health
Aug 27, 2015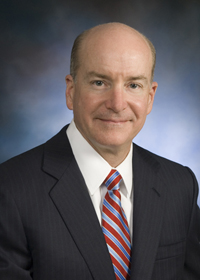 The College of the Mainland Foundation Gala on Sept. 10 will honor President David L. Callender, M.D., and the University of Texas Medical Branch (UTMB Health) for championing the future of Galveston County through education, research, health care and economic development.
The Bridge to the Future COM Foundation Gala, the foundation's annual scholarship fundraising event, will feature a dinner, silent auction and live auction.
Callender, a head and neck surgeon with expertise in head and neck cancers, has served as president of UTMB Health since 2007. During his tenure, UTMB Health has grown in enrollment, employment and facilities to meet the region's evolving health care needs.
The university is adding a new $90 million inpatient facility on its League City campus, in addition to the new $438 million Jennie Sealy Hospital under construction on the Galveston campus. Both are scheduled to open in fiscal year 2016. New clinics in Alvin, Clear Lake, Galveston and Texas City also opened in the past year to improve access to care.
After Hurricane Ike caused $1 billion in damage to the university's Galveston campus, Callender oversaw short-term efforts to return the university to service, and he led a long-term recovery effort that marshaled the support of UTMB alumni and employees, local and federal officials, the regional health care system and philanthropies.
Today, UTMB Health employs about 12,000 statewide and educates more than 3,200 in its schools of medicine, nursing, health professions and graduate biomedical sciences.
Texas' first academic health center opened its doors in 1891 and today comprises four health sciences schools, three institutes for advanced study, a research enterprise that includes one of only two national laboratories dedicated to the safe study of infectious threats to human health, and a health system offering a full range of primary and specialized medical services throughout Galveston County and the Texas Gulf Coast region. UTMB Health is a component of the University of Texas System and a member of the Texas Medical Center.
COM Foundation, a nonprofit organization, aims to turn students' dreams of success into reality. The foundation awards more than $100,000 in scholarships to COM students yearly.
All proceeds from the gala fund student scholarships.
For more information on the COM Foundation Gala Sept. 10 at South Shore Harbour Resort in League City or to purchase tickets, call 409-933-8675 or email foundation@com.edu. The deadline to purchase tickets is Sept. 4.