Future engineer and COM graduate wins $58K scholarship
Aug 18, 2015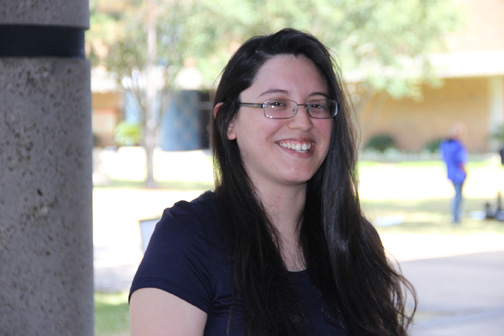 The first in her family to earn an associate degree, Raquel Balderas isn't stopping there.

The College of the Mainland graduate, of Texas City, has earned the Terry Foundation Scholarship, a total of $19,400 renewable for three years.
After receiving the scholarship from the nonprofit Terry Foundation that UH invited her to apply to, Balderas plans to earn a mechanical engineering degree.
"I want to continue to challenge myself," said Balderas, the former president of the COM chapter of the Phi Theta Kappa Honor Society (PTK).
The past two years she has challenged herself with service and speaking.
"(PTK) was a great experience, getting to know administration, networking and being a part of student life and feeling like a part of campus," said Balderas.
Citing professor Dalel Serda, co-advisor of PTK, as an influence, she said Serda is helping her transition to UH.
"She's giving me advice," said Balderas. "Like speaking out."
One way she's becoming bolder is through answering questions during New Student Orientation at COM for first-time in college students.
"I get to share my experiences," said Balderas. "(Two years ago), I wouldn't have done that."
Serda, networking and volunteering through church and PTK emboldened her.
Balderas helped coordinate PTK projects, including its Honors in Action Project bringing professionals to talk to Crosby Middle School students about science careers. That project was awarded the Distinguished Honors in Action Project Award, making it in the top 26 Phi Theta Kappa projects around the world.
Through PTK, Balderas attended state conferences, volunteered in the community and met other ambitious college students.
"Raquel is the kind of student who makes teachers remember why we joined the profession: She is deeply reflective, analytical, methodical, and has the work ethic and integrity of a servant leader," said COM PTK co-advisor Dalel Serda. "I am proud to attach my name to hers because she will achieve much in the next many years; I will miss her greatly."
PTK is open to community college students who earn a 3.5 or higher GPA after taking 12 credit hours.
"PTK feels like you're part of a family once you get to know everybody," said Balderas. "I met a lot of people. I'm glad I got out of my shell."
Established in 1986 by Houston philanthropists Howard & Nancy Terry, the Terry Foundation has assisted thousands of Terry Scholars in meeting the Founders' goal of helping Texas college students to help themselves.