Mosaic and more on display at 50 Plus Art Exhibit
Jul 27, 2015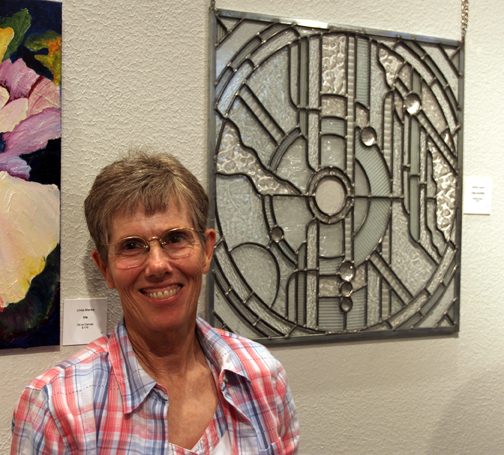 After her husband's death, Marilyn Jewell delved deeper into an art form she loved –stained glass.
Her intricate work, composed of translucent, textured glass soldered together, won best in show in the College of the Mainland 50 Plus Program Art Exhibit, on display at the COM Art Gallery until Aug. 20.
"The time that went into this was a million hours," said Jewell. "It's such a great hobby. My husband died three and a half years ago. Your life is different. (Stained glass) fills the void. I don't even get hungry when I'm working. I love the artwork."
More than two dozen pieces are displayed at the COM Art Gallery, with winners in mosaic, painting, drawing, photography and 3-D art.
Karen Calhoun – an award-winning artist, member of the Galveston Art League and graduate of University of Pittsburgh – judged the show.
"The artists have drawn from their lifetime of experiences, customs and cultures to create these unique expressions. Their work shows that artistic creativity and expression is not limited to the younger generation," said Calhoun. "The quality, artistry, variety and composition of the works are remarkable."
Patricia Wright won first place in 2-D art for "Flower Vase Applique;" Mitzie Warling earned first place in 3-D art for her beaded work, "Face Amulet Bag;" Doris Nidiffer took first in oil for "Mission San Jose;" Karen Spurlock earned first in watercolor for "Jacob's Ladder;" and Mary Lou Darst won top honors in photography for "Looking Through."
An additional 40 pieces are displayed at the COM Learning Center-Delmar in La Marque.
For more information about the COM 50 Plus Program, visit www.com.edu/50plus or call 409-933-8226.