Cosmetologist-turned-pharmacy technician hired before graduation
Jul 24, 2015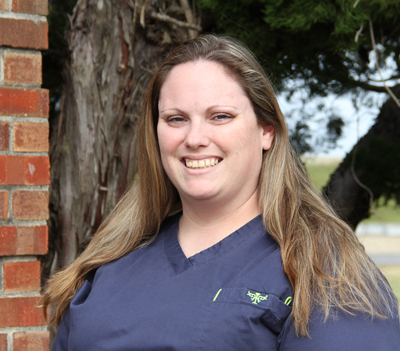 Wanting a career change, Nicole Loukanis decided to take the people skills she employed and apply them to another service-oriented profession – health care.
She found her compassion served her well in both industries.
"I like taking care of people, helping people and listening to people," said Loukanis. "You see them in their ups and downs."
She qualified for financial aid and enrolled in a program that allowed her to launch a new career in just two semesters, the College of the Mainland Pharmacy Technician Program.
"I loved it. This is where I'm supposed to be," said Loukanis.
Learning about laws, data entry and prescriptions, Loukanis trained in labs, classes and two internships.
"The class looked to her as a leader," said professor Lisa Homburg. "Those returning to school are good students because they are mature and have a good work ethic. They are sought after by employers."
Loukanis found opportunities swiftly. While a student intern at Walgreens, she got an offer of a full-time job.
Balancing school, family and work, she found support in Homburg.
"She was there. She would stay after if you needed it," said Loukanis. "She prepared me above and beyond. I've gotten high compliments in the knowledge I have. It was taught very well."
She now looks forward to new opportunities, including returning to school to become a pharmacist.
"I'm a single mom, so (returning to school) is possible for anyone," said Loukanis. "The possibilities are endless."
For more information on the COM Pharmacy Technician Program, visit www.com.edu/pharmacytechnician.